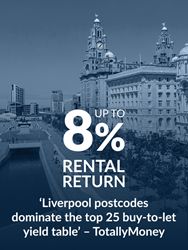 LIVERPOOL (PRWEB UK) 27 March 2018
Property investment is hot all over the world right now, although there are a number of reasons enticing investors to explore the UK's iconic northern city of Liverpool for a unique, affordable and profitable buy to let investment opportunity.
Population Growth and Growing Student Numbers:
Liverpool's population has risen steadily, increasing by 30,000 in the last 18 years. However, growth is far more rapid when focusing on city centre residents in particular. At approximately 29,060 people, this figure is almost double that of recorded statistics in 2006. But what are the reasons behind this surge in city centre population?
Its central location in the country with brilliant transport links makes it a well situated living destination for professionals needing to commute to various offices around the UK and maintain connectivity with other regions. Additionally, it's an ideal base for student study being only a few hours drive from most parts of the country.
A massive number of inhabitants in the centre of Liverpool are under 30, hinting at the high student presence in this prime education zone. With a total of three universities home to a rich variety of specialised colleges, the Liverpool postcode is an attractive destination for undergraduate and postgraduate study. There is a wide range of high-quality student accommodation available with new developments being constructed all of the time. Students fall in love with the city so much during their time on the course, that they look for permanent residence in Liverpool once they have graduated.
The thriving economic success of the city centre attracts young professionals from other areas across the UK. There has been a high influx of a young demographic who have relocated from London to Liverpool due to increased cost of living in the capital. When hunting down affordable residential and student accommodation, Liverpool offers cheaper alternatives without forfeiting space and quality.
Trends also indicate a growing immigrant community within the city as economic triumph has generated healthy employment prospects, ideal for those seeking a new life in the UK and opportunities to make more money.
A City under Regeneration:
Billions of pounds worth of investment has been thrown at Liverpool in former years, with the development of £960 million shopping centre Liverpool 1 kickstarting the regeneration in 2008.
The Baltic Triangle is one of the best places to live in Liverpool's city centre since an injection of cash has increased attraction for businesses, residents and students alike. It's trendy and creative with a hipster vibe that reflects the investment worth over £190 million.
The Knowledge Quarter is valued at £1 billion and is home to the Georgian Quarter and newly coined Fabric District which pays homage to the textile industry once founded there. It's also a zone comprised of the Royal Liverpool University Hospital and scientific institutes such as the Liverpool Science Park and Bio-Innovation Hub.
North Liverpool's £150 million Project Jennifer is another example of a successful scheme in the Anfield area, with plans for renovation in other locations such as Chinatown and RopeWalks which will see the entire pedestrianisation of Bold Street. Liverpool Lime Street platforms are also due to be refurbished, improving transport services for all.
Other Liverpool investments include the £350 million L2 Superport and the Albert Dock with its eclectic range of bars and restaurants blending with the Tate Modern and Echo Arena. However, the northern docklands zone is set to be transformed further with plans to build Liverpool Waters, a £5.6 billion revival of the waterfront. The Liverpool Waters masterplan encompasses the creation of five luxury living districts, 315,000 square metres of unique commercial space plus extensive leisure facilities.
Culture:
Heavy regeneration in the area is not the only reason so many are pulled into the perks of city centre life. The streets of Liverpool are steeped in heritage and culture from the musical legends of the Beatles originating from the world-famous Cavern Club to the acclaimed selection of art galleries hosting some of the globe's most renowned exhibitions.
It's also home to theatres such as the Empire, Philharmonic Hall and Echo Arena and has the most museums outside of London including the World, Maritime and Slavery museums.
The busy streets are bursting with vivacious bars, restaurants and shops which are populated by friendly and fashionable faces. The biggest plus points charming investors into the Liverpool area are the people themselves with their characteristic 'scouse' warmth and determination that is so widely recognised across the country and the world.
Property Prices on the Rise:
Competitive property prices mean that masses of individuals are finding residence in Liverpool in place of more costly regions down south.
This incentive is similar for investors, as they are able to take advantage of affordable buy to let property in the short term, whilst reaping the benefits of rising prices in the future serving to assure capital appreciation in years to come.
Strong Rental Yields for Investor
Liverpool was voted the best UK location for buy to let rental yields in 2017 and looks just as promising for the present year.
A combination of property affordability and high average net rental yields of 8% encourage investors to choose Liverpool when searching for their next venture in buy to let property.
Overseas Investors:
For many investors searching for international property, Liverpool is globally recognised as a hotspot for growth. A lower-priced alternative to the UK capital with higher assured rental yields makes Liverpool property investment seem like an exciting and lucrative opportunity.
With a profound shipping history and an expansive trading port, Liverpool's population has become increasingly diverse. Home to the oldest African community in the UK and the oldest Chinese community in Europe, Liverpool's links with foreign communities continue to go from strength to strength and thus also inspire foreign investors to look for property there.
Furthermore, a large majority of students move to the UK from regions abroad like China and the Middle East during periods of study. This is inciting overseas investors in the form of foreign student parents looking to purchase accommodation for their children. With their pride and joy setting up a life thousands of miles away, investors are keen to locate safe student living quarters in a reputable area with all the latest facilities.
What does it mean for Liverpool in the Future?
With the population predicted to increase by 90,000 people by 2030, tenant demand in Liverpool is predicted to reach all-time highs.
The numerous projects completed, underway and planned for the future, including the £5.6 billion Liverpool Waters scheme, will open up the property market to investors like never before.
Why invest in Liverpool? On top of superb rental returns in show stopping new developments, the quality of life and vibrant culture are both winning elements backing Liverpool investments