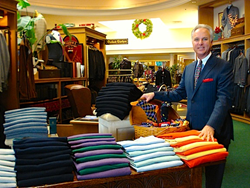 LOS ANGELES (PRWEB) March 23, 2018
John Carroll's esteemed Carroll & Co. retail store, which has been in business since 1949, has won the "Best of Los Angeles Award" for Best Exclusive Men's Clothing Company" 2018.
Says owner John Carroll, "65 years ago, my Father (Richard Carroll), a former Warner Bros. publicist, opened a 'classic' men's store of impeccable taste and integrity. Today, all of us at Carroll & Co. continue that legacy of providing uniquely better made, better-fitting clothing from 'artisan' manufacturers in North America, Great Britain, Italy and Switzerland. We feature uncommon labels of the highest quality that bring hand finishing and detail to a new level, and an unmatched personal level of service."
Carroll & Co. has remained one of the oldest continuously operating family-owned businesses in Beverly Hills. Commenting on his family store's long running success, Carroll states, "Many of our customer-friends are 2nd and 3rd generation clients. This is because Carroll & Co. offers a level of quality and personalized service that only a family-owned store can deliver. We consistently meet the toughest client deadlines, deal with emergencies, and even bring made-to-measure custom services and tailoring to homes and offices. I am committed to providing our clients with unique merchandise from the finest manufacturers in the world."
The "Best of Los Angeles Award" community was formed three years ago and consists of over 3,900 professional members living and working in Southern California. It celebrates the best people, places and things in Los Angeles with a slogan "No Ads. No B.S. Only the Best." (https://www.facebook.com/BestofLosAngelesAwards/)
"The mission of the community is to celebrate the best of Los Angeles and allow its community members to connect with other members who share the highest standards of quality and integrity," said community spokeswoman Aurora DeRose.
"My team and I are honored to receive this award from the Best of Los Angeles. It's a great feeling to know that our hard work doesn't go unnoticed," says Carroll.
To learn more about Carroll & Co., please visit: https://carrollandco.com/