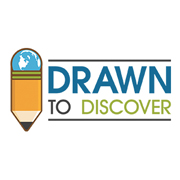 Drawn To Discover's David Barrett said, "This means so much to our organization. Being able to partner with such an amazing talent, both on and off the field, like Ryan Kerrigan is a true gift. It will help both our organizations increase our mission of serving children. It's really a win-win!"
WASHINGTON (PRWEB) March 23, 2018
How does an elite, professional athlete use creativity in career and life? According the 3-time, NFL Pro Bowl linebacker Ryan Kerrigan, creativity is vital to success in many different ways.
In the 1st episode for 2018, The Drawn To Discover podcast, What is Creativity?, kicks off with an amazing conversation with the All Pro linebacker, Ryan Kerrigan. Washington's #91 talks about the importance of creativity both on and off the football field. From critical 3rd downs to breaking down film to choosing the right nutrition, creativity permeates Ryan's life and decision-making. Kerrigan also discusses how creativity influenced his philanthropic work and led to the creation of his Blitz for the Better Foundation aimed at providing support, opportunities, and resources for children and families in the Greater Washington D.C. area.
Drawn To Discover is also excited to announce the beginning of a partnership with Kerrigan's foundation to help support this worthy cause. New subscribers to drawntodiscover.com can use the coupon code "BLITZ" to save 10% off their annual or monthly subscription. Additionally, 50% of all revenue generated from the "BLITZ" coupon code will be donated directly to the Blitz for the Better Foundation.
"We are truly excited about this partnership," Brian Goodman, co-founder of Drawn To Discover shared. "Our platform is providing important fine motor control that leads to literacy and beyond for children ages 4 to 11. If you subscribe, your kids not only get access to this great content and lessons, but you also directly help the many children in need serviced by the Blitz for the Better Foundation."
Kerrigan also shared his excitement for this new partnership, "I really appreciate this. I think Drawn To Discover is the perfect match for our signature endeavor Kerrigan's Korner [a program with Blitz for the Better]."
Head of research and education for Drawn To Discover, Dr. David Barrett, added, "This means so much to our organization. Being able to partner with such an amazing talent, both on and off the field, like Ryan Kerrigan is a true gift. It will help both our organizations increase our mission of serving children in Washington D.C. and across the globe. It's really a win-win!"
To help further their work and to provide a resource for parents and educators, Drawn To Discover began a podcast to foster a conversation about creativity: what it is, how do we use it in our lives, and most importantly, how do we support our children in developing and incorporating their own creativity into their lives? The podcast has spanned "mommy bloggers", start-up entrepreneurs, university professors, hip-hop artists, philanthropists, artists, Hollywood stars, and more. Listen here and discover more about What is Creativity?
DRAWN TO DISCOVER was built on years of research and development in the classroom. Academic studies have shown, by developing fine motor skills, children have a greater ability to learn, comprehend, and develop. This is the support that built DRAWN TO DISCOVER.
About Drawn To Discover, LLC
DRAWN TO DISCOVER is a progressive and pioneering visual literacy and learning solution for children. We manifest creativity and self confidence through interactive ENRICHMENT video lessons built to develop fine motor skills into cognitive growth. Happiness is our magic ingredient.