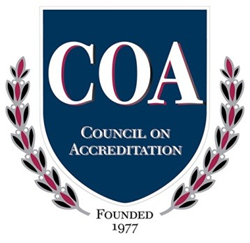 COA accreditation helps keep you focused on the things that matter.
NEW YORK (PRWEB) March 27, 2018
The Family First Prevention Services Act was passed as part of the Continuing Resolution, entitled Bipartisan Budget Act of 2018, which continued to fund the government in February 2018. The legislation restructures Title IV-E funding and mandates that all residential treatment providers using the funds achieve accreditation as part of the process of becoming Qualified Residential Treatment Programs. The Council on Accreditation (COA) is noted in the legislation as an approved accreditor for the mandated accreditation of Qualified Residential Treatment Providers.
Richard Klarberg, President & CEO of COA said, "COA is eager to work with organizations taking on these new requirements to become Qualified Residential Treatment Providers. These services are key to treatment for children, and this legislation represents an important step towards a higher standard of quality." Jeff Peterson, MPA, Executive Director for the Home Campus of Boys Town, the largest residential service provider in the country, said, "COA accreditation helps keep you focused on the things that matter. COA doesn't dictate your mission instead it helps you live your mission and this helps promote long lasting quality. Long after the reviewers are gone, the insights and systems last to promote quality and the proper service to those vulnerable populations that we serve."
According to Marlo Nash, Senior Vice President for Public Policy and Mobilization for the Alliance for Strong Families and Communities, "The accreditation requirement in the Family First Act is the federal government's signal that it will direct supports to residential treatment programs that are centered on providing quality supports and services. With the very tight timeline for implementing the new law, nonprofit community-based organizations that offer residential treatment and public agencies need to work together to assess the capacity for accredited QRTPs that will be required for each state's system under FFPSA. The Alliance is supportive of efforts to drive up quality and improve outcomes for children and families. We hope that as organizations and public agencies work together to implement the Family First Prevention Services Act, they will make positive outcomes for children and families their guide star."
The Bipartisan Budget Act of 2018 is available here, which includes Title VII Family First Prevention Services Act and the reference to COA, located in the 'Qualified Residential Treatment Provider' section on page 494. Organizations that are interested in accreditation due to this expansion of recognition may contact Zoë Hutchinson, Director of Business Development, by phone at 212.797.3000, ext. 242 or by email at zhutchinson(at)coanet(dot)org, to learn more about the benefits and COA accreditation process.
To learn more about the differences between recognized accreditors under Family First Prevention Services Act, please download the COA Accreditor Comparison.
ABOUT COA
Founded in 1977, COA is a nonprofit accrediting body of over 2,200 behavioral health and social service organizations and programs in the US and Canada. In partnership with the human services field, COA researches and publishes best practice standards and engages organizations and programs in a comprehensive review with the goal of strengthening and improving their capacity, administration and management functions and service delivery. Standards are available free and online at http://www.COAnet.org. Currently, COA is recognized in over three hundred instances in 49 states, the District of Columbia, Canada, and China. This number continues to grow based on state interest in the use of accreditation.
Connect with us on Facebook
Follow us on Twitter
Find us on LinkedIn