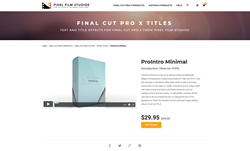 Minimalistic Introductions for any FCPX project.
ALISO VIEJO, Calif. (PRWEB) March 25, 2018
ProIntro Minimal is a set of 30 self-animating simplistically-elegant introductions created exclusively for Final Cut Pro X. Pixel Film Studios' minimalistic titles allow users to add a stunning introduction to any video or media. Choose from any unique style with clean shape animations and basic elements such as background tint and text styles. To add greater contrast, users can increase the blur or change the tint on the background. Pixel Film Studios ProIntro Minimal makes crafting stylish introductions easy in Final Cut Pro X.
ProIntro Minimal has be created to be used across any media. Each preset design features different title elements needed to create a sleek and elegant opening scene. By changing the text, rotation, color, and depth of field elements, FCPX users can apply ProIntro Minimal's style to any media.
ProIntro Minimal features intuitive controls that allow users to modify various elements of each unique preset. Manipulating the scale, opacity and width of the title elements has been simplified to a click of the mouse. In addition, editors can adjust three dimensional rotations as well as depth. With on-screen controls, ProIntro Minimal provides controls for the overall position, rotation, and scale of the presets.
Each preset features both unique intros as well as outro animations in order to provide users with a complete minimalistic package feel. Using ProIntro Minimal is as easy as dragging and dropping any given preset over designated media. Browse the ProIntro Minimal library by scrolling over the presets and scrubbing through each, then drag the desired preset above any media in the FCPX timeline. Adjust the duration of the preset and modify the parameters provided in the inspector window.
This plugin also features adjustable background presets. Additional controls allow users to tint and blur the media to create contrast, as well as saturation customization. Blur the background to add even more depth to the look of the composition. More background animation presets that include shapes and gradients utilizing blending modes can be incorporated for a more unique design. Using ProIntro's background presets allow for FCPX users to create a large variety of looks and contrast to any media production.
Josh, a motion graphic artist states, "This plugin is the perfect addition to any project looking to utilize a minimalistic theme."
Established in 2006, Aliso Viejo, California-based Pixel Film Studios is an innovative developer of visual effects tools for the post-production and broadcast community. Their products are integrated with popular non-linear editing and compositing products from Apple FCPX. Apple, the Apple logo, Mac OS X, and Macintosh are registered trademarks of Apple Inc. in the U.S. and/or other countries. All other trademarks and trade names are the property of their respective owners.