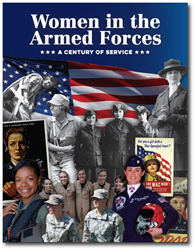 Trace the historic timeline of women's important role in a century of the nation's defense while examining the current climate of optimism and the future prospects as women's roles in the military mature and evolve.
TAMPA, Fla. (PRWEB) March 27, 2018
Women in the Armed Forces: A Century of Service captures the history of women serving in the military, both formally and informally, dating back to the American Revolution.
In its recounting of people and events, Women in the Armed Forces describes how women sought to serve from the earliest days of the republic, and celebrates their service, sacrifices and accomplishments in breaking barriers and proving their worthiness on the front lines and in command. Since their days of primarily working in administrative support and nursing duties, women have expanded their roles, serving today in military service occupations that were once off limits to females, and commanding troops on the ground, in the air, and on the seas and from the highest offices.
For 100 years, women have met the call of duty and exceeded expectations, and will continue to do so for the next hundred years.
To learn more about the amazing history of women in our nation's armed forces, please open our online digital edition of Women in the Armed Forces: A Century of Service. The online publication is best viewed on desktop, laptop, and tablet devices.
Faircount creates highly targeted print and digital publications for the world's most iconic institutions and historic national events. The company's work within government and scientific sectors is second to none with a portfolio including an extensive range of commemorative publications developed in partnership with government departments and agencies. The company has published books for the U.S. Air Force, U.S. Army, U.S. Coast Guard, U.S. Marine Corps, U.S. Navy, National Oceanic and Atmospheric Administration, The King Center, National Council of Volunteer Firefighters, The Statue of Liberty and Ellis Island Foundation, Carnegie Hall Corporation, the Royal Navy (U.K.), Royal Australian Navy, DARPA and many others. More information is available at faircount.com
To learn more about how to participate in our upcoming titles, please send a request here.