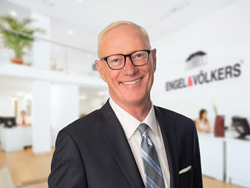 SAN FRANCISCO (PRWEB) March 26, 2018
"Anthony makes a wonderful addition to our talented team," stated Mark Kelaidis, Licensed Partner and General Manager of Engel & Völkers San Francisco. "Our real estate advisors are very highly-trained, dedicated to their professions and truly understand our clients' special needs in the high-end real estate market. I am sure that Anthony will feel perfectly at home in our shop and will push us to even greater success."
Kwiecien joins the prestigious company with an outstanding professional history, including most recently a 12+ year affiliation at Sotheby's International Realty San Francisco.
With a long history of luxury property and yacht sales in Europe, Engel & Völkers entered the North America market in 2006, dedicated to redefining the concept of real estate service. "Not every real estate agent is the best fit for our shop," explained Kelaidis. "Engel & Völkers has high expectations of its real estate advisors to participate in continuous training and to work toward a European definition of service that isn't often found in real estate here. Anthony clearly can handle that challenge and will deliver outstanding results to his clients."
About Anthony Kwiecien
Having grown up in Silicon Valley, Anthony Kwiecien is a lifelong resident of the bay area. After receiving a BA in Architecture from the University of California, Berkeley, Anthony spent the next few years living in Japan and traveling through Asia where he learned to understand the nuances of the Asian culture. This proved beneficial when dealing in real estate in the Pacific Rim.
Upon his return in 1989, Anthony opened the Phoenix Gallery in the Presidio Heights neighborhood, which was a retail art gallery specializing in Chinese antique furniture and accessories. Anthony also offered full interior design services. During this time Anthony was able to establish many wonderful relationships with the residents in the neighborhood. In 2004 Anthony decided to segue into real estate, and both his degree in architecture and knowledge of interior design made this a natural transition. Anthony was successful in translating this knowledge into many high-end sales which helped establish him as one of the top luxury agents in San Francisco.
Engel & Völkers San Francisco first opened its doors in 2015.
About Engel & Völkers
Since its beginning in 1977 as a specialty boutique providing exclusive, high-end real estate services in Hamburg, Germany, Engel & Völkers has become one of the world's leading companies specializing in the sale and lease of premium residential and commercial property and yachts. Engel & Völkers currently operates a global network of over 10,000 real estate advisors in over 740 residential brokerages and 43 commercial offices spanning 38 countries across six continents, offering both private and institutional clients a professionally tailored range of luxury services. It established its North America corporate headquarters in 2007 and opened its first brokerage in the same year. Committed to exceptional service, Engel & Völkers supports its advisors with an array of premium quality business services; marketing programs and tools; multiple platforms for mobile, social and web; as well as access to its global network of real estate professionals, property listings and market data. Engel & Völkers is an active supporter of the Fair Housing Act and the Equal Opportunity Act. Each brokerage is independently owned and operated.
For further information please contact:
ENGEL & VÖLKERS SAN FRANCISCO
MARK KELAIDIS, LICENSED PARTNER
1.801.651.2044
MARK.KELAIDIS(at)EVUSA(dot)COM
ENGEL & VÖLKERS NORTH AMERICA
KATELYN CASTELLANO, VICE PRESIDENT OF COMMUNICATIONS
1.212.234.3100 ext. 9842
KATELYN.CASTELLANO(at)EVUSA(dot)COM