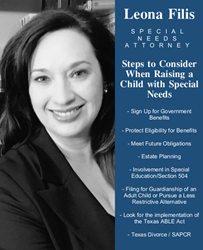 Navigating the Fight for Legal Rights of Students with Disabilities Utilizing Section 504, IDEA, and Special Education.
HOUSTON (PRWEB) March 26, 2018
Leona E. Filis, founder of the Filis Law Firm, PC, was recently published in The Houston Lawyer(page 24), a publication of the Houston Bar Association. In her article, entitled "Navigating the Fight for Legal Rights of Students with Disabilities Utilizing Section 504, IDEA, and Special Education," Filis discusses special education, particularly the rights of parents of children with disabilities, and outlines education rights under federal laws and recent legal cases.
"Every day I am grateful for the gift of being a parent, but being a parent of a child with special needs scares me at times," said Filis "Could I do more? Is that a justified judgmental look from a stranger in the store where my son is having an episode? Is my son getting better? Will he regress this year? With all this fear, I still move on to become the best version of me as a parent."
Filis focuses her practice on special needs trusts and estate planning. Filis guides her clients through the prioritization of legal issues to address, such as whether a special needs trust is right for them and their child, and more.
To learn about "Steps to Consider for Parents with Children with Special Needs," visit http://www.houstonspecialneedsattorneys.com/product/steps-to-consider-for-parents-with-children-with-special-needs/. This publication has been prepared for parents with children who are diagnosed with a disability, whether it is autism, muscular dystrophy, cerebral palsy, or Down syndrome, or a dual diagnosis.
"Leona helped me navigate through the complex case of my special-need son turning 18," noted a client. "Although every case is different, Leona was able to navigate issues and challenges in terms of my case's connection to family law, and the pros and cons of getting a guardianship, especially for divorced parents of a special-need child."
About Leona E. Filis, Filis Law Firm, PC
Leona E. Filis helps families with children with special needs (Autism, Down Syndrome, Duchenne Muscular Dystrophy, etc.) in areas including special education law, family law, probate/trusts, and guardianship. Practice areas of the Filis Law Firm also include general business law and energy law. For more information, please call (713) 462-1777, or visit http://www.filislaw.com. The law office is located at 5600 NW Central Drive, Suite 202, Houston, TX 77092. Would you like to schedule your free consultation? Click on https://calendly.com/filislawfirm and set your appointment today.
About the NALA™
The NALA offers small and medium-sized businesses effective ways to reach customers through new media. As a single-agency source, the NALA helps businesses flourish in their local community. The NALA's mission is to promote a business' relevant and newsworthy events and achievements, both online and through traditional media. The information and content in this article are not in conjunction with the views of the NALA. For media inquiries, please call 805.650.6121, ext. 361.