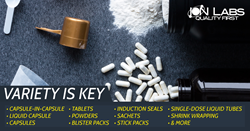 TAMPA, Fla. (PRWEB) March 26, 2018
The products Ion Labs is manufacturing for these massive brands are going on to retail avenues such as Amazon, GNC, Target, Walmart, CVS, Walgreens 7-Elevn and Costco and becoming top-sellers in their perspective categories. Ion Labs is considered the 'Quality First' operation of choice in 2018.
When extremely successful brands reach certain heights, they require a different level of execution from a contract manufacturer due to the increased volume and timelines. Ion Labs provides these brands with elite in-house quality control regulation, laboratory expertise in custom formulation engineering, experienced fulfillment operations and transparent customer service.
Every client of Ion Labs receives full service access to:

First hand product consulting with Research & Development team
Design and product messaging recommendation by Marketing & Design team
Superior communication and operation updates from Sales & Customer Service
In-house laboratory product testing and analysis
Integrated fulfillment and shipping
Ion Labs guarantees three main components to every client: transparency, trust and traceability. Transparency in their operations and communication. Trust in their methodology and experienced staff, and traceability in the high-quality products they develop daily and continue to test for stability year-after-year. When businesses decide to invest in Ion Lab s and become a client, they come on-board with the idea to recreate existing products from their already successful catalog and continue to create new products to build their portfolio.
Private label supplements along with custom supplement manufacturing are available with Ion Labs. Ion Labs has become a key capsule in capsule manufacturer by adding several new high speed production lines to their facility.
View Ion Labs Private Label Supplements catalog.
About Ion Labs
Ion Labs, Inc. is a contract manufacturer that provides clients with the highest quality products and valued in-house resources in nutrition and health industry. From product development to GMP contract manufacturing to release and shipping, adherence to NSF cGMP compliance in an FDA-registered facility has been our formula for integrity and product fulfillment. Ion Labs specializes in manufacturing dietary supplements, OTC Drugs, pet supplements, and skin care products in the United States of America.