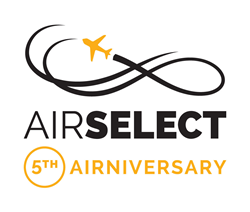 "Most agencies don't have the time or the opportunity to negotiate complex air agreements, so we do everything in our power to offer comprehensive contracts that help drive agency revenues and maximize profits, freeing agents up to do what they do best - sell travel." Dic Marxen, President & CEO
FORT WORTH, Texas (PRWEB) March 29, 2018
CCRA's AirSelect program is marking 5 years of substantial growth since its launch in 2013. Since its inception, the air program has nearly doubled the number of participating travel agencies taking advantage of top-tier commissions on international itineraries.
At its launch, AirSelect was limited to only point of sale commissions, but as the program has evolved, it now includes discount fares, NET fares, and automatic upgrades. It also launched with only 3 airline partners – a far cry from the 75+ today that have agreements available in the program, which are driving more than 47 million dollars in revenues to preferred carriers.
Paul Cho, Director, Air & Supplier Relations, at JTB USA Inc. had this to say: "I can't express how much of a difference the program has made for my agency – I'm able to enjoy the benefits of some incredible agreements while still maintaining total control of the PNR – I ticket like I always have with no real change or disruption in my process. I can focus my energy on growing my business instead of sorting through multiple agreements and wondering if I'm getting the best deal."
Dic Marxen, President & CEO at CCRA said, "We are proud to not only support our airline partners, but to work closely and support the agencies who have trusted us and our program with their international airline needs." He adds, "CCRA understands that most agencies don't have the time or the opportunity to negotiate complex agreements, so we do everything in our power to offer comprehensive contracts that help drive agency revenues and maximize profits."
Steve Pello, CCRA's Vice President of the Air Partner Network added, "We're seeing more and more agencies coming to us looking to increase the ROI they see from their air bookings without giving up control of their PNR. CCRA is in the perfect position to connect them with the right airline partners who are most closely aligned with their needs. And the communication vehicles we can provide to the airlines to better reach these agencies is second to none."
Through the CCRA AirSelect program, airline carriers are able to reach a variety of agency types with a wide variety of marketing and messaging options through CCRA's marketing programs. Options include social media, email, direct mail, webinars and live events, including CCRA's PowerSolutions Live event series, which takes place in approximately 10 cities around the globe each year.
AirSelect will be featured at CCRA's first PowerSolutions Corporate, taking place in October 2018 at the New York Marriott Marquis. Corporate agencies will gather to learn more about CCRA's hotel, air and call center programs while networking with their peers and elite suppliers.
To learn more about CCRA's AirSelect program, visit http://www.ccra.com/air
For more on CCRA's PowerSolutions events, visit http://www.ccra.com/powersolutions