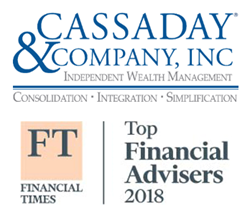 MCLEAN, Va. (PRWEB) March 23, 2018
Cassaday & Company, Inc., an independent wealth management firm with more than 2.7 billion in assets under management (as of February 2018), is pleased to announce that Founder & CEO Stephan Cassaday and Principal Christopher Krell have both been named to the 2018 edition of the Financial Times 400 Top Financial Advisers. The list recognizes top financial advisers at national, independent, regional and bank broker-dealers from across the United States. This is the sixth time a Cassaday & Company, Inc. advisor has appeared on this list (2011-15, 2018).
"It's an honor to have not one, but two advisors named to this reputable list, and also to be two of only twelve advisors named in the state of Virginia," said Allison Felix, COO of Cassaday & Company, Inc. "Steve, Chris, and the entire Cassaday team have an unyielding dedication to helping clients achieve their goals. We're deeply appreciative of our clients and the trust they place in our firm. To see our founder and most tenured advisor recognized for their efforts is truly rewarding for all of us here at Cassaday & Company, Inc."
This is the sixth annual FT 400 list, produced independently by the Financial Times in collaboration with Ignites Research, a subsidiary of the FT that provides business intelligence on investment management.
Financial advisers from across the brokerage industry applied for consideration, having met a set of minimum requirements. The applicants were then graded on six criteria: assets under management (AUM); AUM growth rate; experience; advanced industry credentials; online accessibility; and compliance records. There are no fees or other considerations required of advisers who apply for the FT 400.
The final FT 400 represents an impressive cohort of elite advisers, as the "average" adviser in this year's FT 400 has 28 years' experience and manages $1.4 billion in assets. The FT 400 advisers hail from 38 states and Washington, D.C.
The FT 400 is one in a series of rankings of top advisers by the Financial Times, including the FT 300 (independent RIA firms) and the FT 401 (DC retirement plan advisers).
About Cassaday & Company, Inc.
Cassaday & Company, Inc. is an independent wealth management firm located in McLean, Virginia, with more than $2.7 billion in assets under management serving approximately 1,900 households (*as of February 2018). Founded by Stephan Cassaday in 1993, the firm's mission is, "to provide objective guidance to investors seeking advice about their financial situations, to do so with the highest levels of honesty, integrity, and overall excellence possible, and to provide faultless quality and courteous service – at a reasonable price." Since its inception, Cassaday & Company, Inc. has been recognized for employee development, community service, as a best place to work, as one of the fastest growing companies in the country, and as one of the top wealth advisors in the United States, by outlets such as Forbes, Inc. 5000, Invesment News, Financial Times, Washingtonian, and more. For a full list of awards and award details, see here http://www.cassaday.com/awards-and-recognition/.
The Financial Times 400 Top Financial Advisors is an independent listing produced annually by the Financial Times (March 2018). The FT 400 is based on data gathered from advisors, broker-dealer home offices, regulatory disclosures, and the FT's research. The listing reflects each advisor's status in six primary areas: assets under management (AUM), asset growth, compliance record, experience, credentials and online accessibility. This award does not evaluate the quality of services provided to clients and is not indicative of this advisor's future performance. Neither the brokerages nor the advisors pay a fee to the Financial Times in exchange for inclusion in the FT 400.
Securities offered through Royal Alliance Associates, member FINRA/SIPC. Investment advisory and insurance services offered through Cassaday and Company, Inc., a registered investment adviser not affiliated with Royal Alliance Associates. Third-party rankings and recognitions are no guarantee of future investment success and do not ensure that a client or prospective client will experience a higher level of performance or results. These ratings should not be construed as an endorsement of the advisor by any client nor are they representative of any one client's evaluation. To learn about these criteria for all of these awards, please visit http://www.cassaday.com/disclosures.