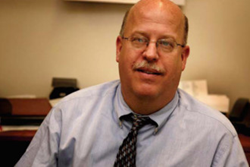 "We at Tool King are incredibly honored to be recognized for our commitment to the Wheeling Community. We are grateful to call Wheeling home."
WHEELING, Ill. (PRWEB) March 27, 2018
Tool King, Inc. has been distinguished as Manufacturer of the Year by the Wheeling/ Prospect Heights Area Chamber of Commerce & Industry.
A relatively new award to the Wheeling community, Tool King has been recognized for their commitment to and involvement in the Wheeling community and its economic development.
Tool King, is a ISO 9001:2015 certified specialty niche metal service center in Wheeling, Illinois and has been a family-focused enterprise for decades. They remain very active within the Wheeling community and continue to make a positive impact on the Wheeling economy. Tool King has set a precedent for their local engagement. Only one manufacturer per year is given this award.
Tool King was founded by Bjorn & Peter Hestad and has served Wheeling since 1976. Tool King has consistently embraced the evolution of its brand, products and services as the economy and industry changes. Its current President and CEO, Peter Hestad, continues to uphold these values as Tool King is delighted to receive this award:
"We at Tool King are incredibly honored to be recognized for our commitment to the Wheeling Community. We are grateful to call Wheeling home."
Hestad represents a strong commitment to the Wheeling community. Consistently attending local community and development events, he hopes to continue to give back. On May 8th, for example, Tool King will be present at a job fair organized by the Wheeling/Prospect Heights Chamber of Commerce and Wheeling High School. Tool King offers an excellent employment prospect for non-college-bound students, and this event is a way to inform those students about Tool King and its industry, among others.
"Peter and Tool King are committed to Wheeling. Not all students go the college route, and Tool King offers a great employment opportunity. They're constantly giving back to our community. Providing jobs is a great way to do that," says Neena Pottoore, Executive Director of the Wheeling/Prospect Heights Chamber of Commerce.
This tradition of excellence and community values is only further pronounced by Tool King's creativity and commitment to a positive and safe work environment.
Tool King has consistently offered productivity enhancements to their employees and Peter Hestad has taken an active role in representing the company at community events. Tool King has not only shown commitment to community, but loyalty to their own team and an ability to adapt and evolve with industry and technology.
Today, Tool King's distribution includes narrow width slit coils, specialty-edged and ribbon or oscillate wound coils. Developing prominence in their industry, they supply manufacturers with narrow width flat rolled carbon, pre-tempered spring steels, stainless steel, copper-based alloys and aluminum.
Tool King has a growing enterprise that serves diverse industries both domestically and internationally.
Tool King serves customers throughout North America, Latin America, Asia, Europe and even the Middle East, and include industries from electronics to appliances to medical, automotive, lighting, utensils and much more.
They have long-established themselves as a family-focused enterprise, and Tool King has taken an active role in the economic development of the Wheeling area, making this award well-deserved and received.