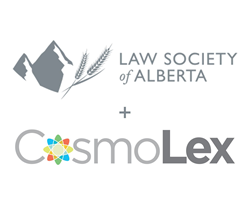 Alberta lawyers now can take full advantage of modern cloud benefits without jeopardizing their accounting compliance...
MONMOUTH JUNCTION, N.J. (PRWEB) March 27, 2018
CosmoLex, a leading legal software developer, announced today that they have met all the requirements to become approved for use by the Law Society of Alberta's Responsible Lawyer Program.
The Law Society of Alberta's formal approval allows active members of the Law Society that are in good standing to use CosmoLex's extensive suite of tools and features, as well as generate their required, annual "Trust Safety Accounting Upload" directly from CosmoLex. The upload can then be submitted directly to the Law Society of Alberta.
"We're extremely proud of obtaining this formal approval from the Law Society of Alberta," says company CEO Rick Kabra. "Alberta lawyers now can take full advantage of modern cloud benefits without jeopardizing their accounting compliance as CosmoLex has built-in trust and general bookkeeping functions,"
The Law Society of Alberta's approval highlights CosmoLex's ability to manage law firms' trust accounting, but lawyers in Alberta will also be able to enjoy a wide range of functionality that allows them to manage their entire practice in a single, legal-specific application. In addition to standard features like time tracking, one-click billing, team calendaring and secure client communication portals, CosmoLex gives special attention to the requirements of legal work and accounting. The CosmoLex practice management system allows firms to operate wherever and whenever they work as it is delivered via the cloud.
To help lawyers in Alberta gets started, CosmoLex is offering no-charge, in-person sessions in Calgary on benefits of cloud computing, trust and general bookkeeping/accounting principles, and in-depth CosmoLex software training.
"The vast majority of Canadian law firms are still using legacy desktop programs because in the past, that was the only way they could enjoy fully integrated billing, general accounting, and trust accounting solutions in a single program," says Kabra. "We're seeing more firms throughout Canada adopt our cloud solution because it builds on the functionality of their legacy solutions while eliminating hardware and software issues and providing anytime, anywhere access."
About CosmoLex
A leading legal practice management solution that is trusted by thousands of law firms across North America, CosmoLex is a single solution that lets solo legal professionals & small law firms manage their practice, billing, AND accounting all in one login, on any device, at any time. CosmoLex users can eliminate the need to maintain multiple programs because CosmoLex does it all -- including time & expense tracking, billing, business accounting, trust (IOLTA) accounting, calendaring, task, email & document management, even secure client communications-- in one web-based application. CosmoLex's dedicated team has worked hard to keep the unique requirements of Canadian law firms in mind while developing a special version of their software designed specifically for lawyers working in Canada. Please visit http://www.cosmolex.com/canada for more information. For ongoing news, please go to http://www.cosmolex.com/about/news-events.
About the Law Society of Alberta
The Law Society of Alberta is an independent body established to regulate the legal profession in the public interest in the province of Alberta. Established in 1907, the organization is dedicated to promoting a high standard of legal services and professional conduct through the governance and regulation of an independent legal profession.