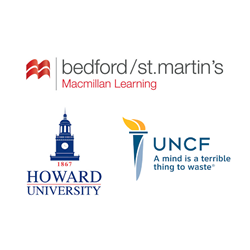 Bedford/St Martin's has always been enthusiastic about closely examining the composition curriculum and finding creative ways to elevate the experience for faculty and students. --Susan Winslow, GM, Macmillan Learning
WASHINGTON (PRWEB) March 26, 2018
Bedford/St Martin's, an imprint of Macmillan Learning and the premier publisher in humanities, in partnership with Howard University, and the United Negro College fund, today announced the 2018 Symposium on Teaching Writing at Historically Black Colleges and Universities (HBCUs) to take place in Washington D.C. on March 29 and 30. This innovative event will bring together educators, college administrators, and writing luminaries to discuss critical issues in rhetoric and composition, including disruptive language and writing pedagogies, technical communication, improving writing student outcomes, and HBCU leadership in the field.
Commenting on the event, Macmillan Learning General Manager, Susan Winslow, stated, "Bedford/St Martin's has always been enthusiastic about closely examining the composition curriculum and finding creative ways to elevate the experience for faculty and students. It's imperative that we continue to forensically evaluate the materials we create and our teaching practices in context. In the case of this unique symposium, the lens is HBCUs. I look forward to the output from the event and to building on the strong relationships we have with the writing community."
The dynamic program features a day one keynote by two-time American Book Award recipient, poet, scholar, and educator Dr. Keith Gilyard of Penn State University. In addition, Dr. Adam Banks of Stanford University speaks to his research, which "lies at the intersections of writing, rhetoric and technology," during the day two keynote. The event will also include a number of thought provoking panel discussions on topics such as disruptive language, digital publics, race and gender politics, and activism, featuring speakers from a myriad of schools including Morehouse University, Howard University, Winston-Salem State University, Florida International University, Bowie State University, Spelman College, and more. The symposium closes with a featured roundtable session, titled "Challenges and Triumphs: Increasing HBCU Leadership in Professional Organizations." The session is moderated by author and scholar Andrea A. Lunsford of Stanford University, and spotlights the active roles taken by HBCU faculty Karen Keaton Jackson, Collie Fulford, Faye Spencer-Maor, Jason DePolo, Kendra Mitchell, and Pamela Simmons in organizations from CCCC to MLA.
Dr. David F. Green Jr., symposium organizer and Assistant Professor of English at Howard University, noted that "the symposium represents a hallmark event for everyone invested in, laboring at, or researching rhetorical education and writing instruction at HBCUs. It brings to the forefront a long history and tradition of language analysis, composition instruction, and critical literacy work completed at HBCUs for the benefit of students learners. I am hopeful and inspired by the possibilities afforded by such an intersection of scholars, teachers, researchers, and organizations in one space for the expressed purpose of examining, historicizing, and celebrating the HBCU learner. "
Attendees will gain a nuanced perspective on teaching writing at HBCUs, along with numerous opportunities to interact with fellow attendees and panelists. This unique, multi-faceted event will take place on the campus of Howard University and at the United Negro College Fund's College Knowledge Center. Following the event, attendees will connect with colleagues via the symposium community space to continue conversations and work.
"Bedford/St. Martin's has a long and rich history of deep partnerships with educators in the writing community," noted Executive Marketing Manager Joy Fisher Williams. "Our sponsorship of these events represents a critical opportunity for us to come together and find solutions to faculty and student challenges--and in this case, to address the unique issues facing HBCUs."
Live-stream coverage of the event, photos, and discussions can be found at: macmillanlearning.com/hbcuforum.