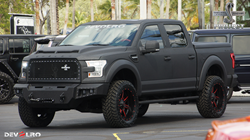 'We are not stopping here..."
MIAMI (PRWEB) March 28, 2018
DEVOLRO Announces Launch of its Custom Tuning Portfolio for the Shelby Ford F-150 - the One and Only DEVOLRO PREDATOR
DEVOLRO, best-known for its custom tuning packages for Toyota Tundra models, today announced the availability of its new, custom tuning package for the ultimate truck fanatics: 2018 FORD F-150 Shelby by DEVOLRO – the DEVOLRO Predator.
"When taking on new projects, we are always looking at ways to raise the bar for ourselves and our clients. Shelby is world-renowned for top-tier upgrades and limited availability, with only 500 2018 Shelby Ford F-150 models available worldwide," stated Eduard Orlov, President of DEVOLRO. "But we knew we could take what is considered by many to be the best and make it even better. So, we got our hands on one of their trucks and have worked tirelessly to bring you the first 2018 FORD F-150 Shelby by DEVOLRO edition that will suit even the most discriminating car enthusiast."
DEVOLRO's Shelby package includes:
Line-x entire truck all panels both sides, not just the exterior
Custom heavy duty 6mm steel bumpers both front and rear
Devolro Rims with 35" tires
250 hours put into handcrafting Alcantara, Leather and Suede, custom-made interior
Custom fender flares
Heavy-duty winch
Relocation of intercooler from below the bumper to above the bumper, resulting in cleaner air intake and reduced chance of damage
Custom side bumper step bars
Two sets of Rigid fog lights added to front bumper
RECON rear tailgate light bar added
Hand-made carbon fiber interior inserts
Custom, handmade Devolro heavy duty grill with inserts
Train horn with upgraded solenoid
Additional options will include B4 - B7 armor package, heated bed floor, auxiliary fuel tank, and more.
DEVOLRO's major competitive advantage is the balance between all of the major upgrades in the package and components of the Shelby. For example, when a set of heavy-duty bumpers, winches, and heavy-duty steel step bars are installed with a total gross weight increase of 850 pounds, DEVOLRO ensures to include this extra weight calculation when designing DEVOLRO custom suspension.
"It doesn't get more elite than this upgraded Shelby made by DEVOLRO," continued Orlov. "Many thought we couldn't make the best truck available even better, but we've successfully created a one-of-a-kind beast. Don't expect us to stop here, though. We'll continue to take on challenging projects like this one to create unparalleled vehicles for our clients."
Beyond Shelby, DEVOLRO has designed and built unparalleled custom sest of exclusive accessories that can be used to upgrade all of Ford's F-150 models including Raptor and regular base models. DEVOLRO has previously built executive trucks for the most elite presidential garages of the top world businessman and CEO's of Fortune 500 and has designed an off-road tuck for the Dakar Rally. DEVOLRO trucks have been used by military in numerous countries; and, tested throughout the state of Alaska, the UAE, Afghanistan, Kazakhstan, Russia, and beyond.
About DEVOLRO
DEVOLRO Performance Trucks Studio is exclusive American manufacturer of custom high quality, off-road specialty equipment. With its own professional production facility, DEVOLRO builds luxurious pickup trucks with superior off-road capability as well as comfort, style, and durability. All DEVOLRO products are manufactured in the United States of America from the highest grade local materials.
Contact
Devolro Performance Trucks
15701 NW 15th ave
Miami, FL 33169
786-765-0977
sales(at)devolro(dot)com
facebook.com/devolro
instagram.com/devolrousa