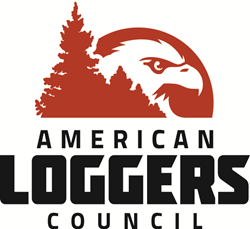 "Loggers have all managed to educate ourselves and each other on the issues that are seemingly regional in character but actually national in scope, and today we all speak with one voice on the issues that we are concerned with."
Washington DC (PRWEB) March 24, 2018
Loggers and log truckers provide jobs, generate billions of dollars for the U.S. economy and provide raw materials that make civilization possible. But running a logging and trucking business poses many challenges. That's why members of the industry descended on Washington DC to meet members of Congress and Trump Administration to explain why solutions are needed so they can keep working in the woods.
The American Loggers Council (ALC), the national association of professional timber harvesters, organized its annual fly-in March 21-24 to connect loggers to key decision makers. If not for an Early Spring snowstorm, the event would have enjoyed record participation thanks to improving markets and increased interest in forest-related issues.
ALC has long advocated for better management of federally-owned forests, especially after the dramatic decline in timber harvests contributed to the loss of thousands of logging jobs across the country. A highlight of the loggers' visit to Washington was the bipartisan agreement in the omnibus appropriations bill, which addresses federal wildfire suppression funding, provides land agencies new tools to reduce wildfire risks, and reauthorizes a safety net funding program for struggling timber counties.
ALC Executive Vice President Daniel Dructor said the spending agreement is an important step toward putting more loggers back to work on federal lands, but more action is needed to reverse decades of forest mismanagement.
"For years ALC has worked with other forestry organizations to bring attention to the poor health of our federal forests, and the social and economic devastation caused by the decline in federal timber harvests," Dructor said. "We are pleased that the federal government is beginning to act. But more needs to be done to significantly expand the amount of work that's needed on our federal forests. We will continue to work toward additional reforms that fully address the analysis paralysis and obstructive litigation that will continue to stymie responsible forest management."
The spending agreement also offered loggers a partial victory on the issue of wood-based biomass, a byproduct of logging operations that can serve as a source of renewable energy for industries and communities. The utilization of biomass has been hampered by low costs of fossil fuels and federal energy policies that are only beginning to embrace it. The spending agreement extended the government's policy of biomass' "carbon neutrality" through September 2018, but Dructor said more can be done to improve and sustain the biomass market and its economic and environmental benefits.
"ALC views forests as a strategic renewable natural resource and supports diverse and robust markets for the full spectrum of woody materials to allow landowners and foresters to practice sustainable forestry while providing new opportunities and jobs for professional timber harvesters utilizing previously unused, unmerchantable material," Dructor said. "Federal policies that restrict wood from private lands and prohibiting the use of wood from federal lands are unnecessary constraints that leave out completely sustainable and readily available sources of green energy."
Recruiting and retaining the next generation of loggers is also a key priority for ALC, especially as the average age of professional timber harvesters increases. ALC supports the Future Logging Careers Act that extends the agricultural exemption now enjoyed by family farmers and ranchers to train their sixteen and seventeen-year-old sons and daughters to carry on the family business to mechanical timber harvesters.
In November 2017, the Future Logging Careers Act was included in the Resilient Federal Forests Act of 2017 (HR 2936) and approved by the U.S. House of Representatives. The Resilient Federal Forests Act of 2017 is now awaiting further action in the U.S. Senate.
"Currently, there are no on-the-ground programs in place to facilitate that training and ensure the sustainability of the timber harvesting industry's next generation of family members who choose to enter the profession," Dructor said. "The Future Logging Careers Act would ensure that the next generation of mechanical timber harvesters can gain the needed on-the-ground training and experience under the close supervision of their parents who have a vested interest in their children's safety and in passing down the profession to the next generation of timber harvesters."
ALC has also advocated for uniform truck weight limits that promote predictability and safety for log truck drivers. Haulers often encounter patchwork and inconsistent transportation laws and regulations as they use the Interstate system for both Intrastate and Interstate commerce. The various weight limits imposed by the federal government and individual states can significantly alter travel routes. This increases the risk of accidents as trucks are forced to maneuver through small towns and communities, and it can also increase the time and cost of hauling logs.
"Based on safety considerations, ALC is proposing an additional exemption for agriculture, including forest commodity loads that meet state-legal requirements and tolerances. The exemption is expected to result in a shift of a substantial amount of existing trip mileage from two-lane secondary roads and highways to the Interstate System improving safety for the motoring public, including the trucks themselves," Dructor said.
ALC was formed in 1994 when it was clear that America's loggers needed a strong, consistent presence in order to impact issues on a national level. Since then the organization has grown in membership and seen increased participation in its annual fly-in.
"Loggers have all managed to educate ourselves and each other on the issues that are seemingly regional in character but actually national in scope, and today we all speak with one voice on the issues that we are concerned with," Dructor said. "Our dialects vary from region to region, but the hearts and minds of those participating in the discussions are one and the same. We are loggers working for loggers because if we don't stand up and take our case to Washington DC, nobody else will."