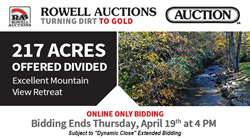 ZIRCONIA, N.C. (PRWEB) March 28, 2018
An excellent mountain view retreat sitting on 217 Acres in Henderson County, NC - the heart of the Blue Ridge Mountains - is now selling at online auction. Bidders can name their own price for the former Camp Arrowhead for Boys - perfect for an event center, family retreat, hunting camp or summer camp. Rowell Auctions announces that the property will sell to the highest bidder when the bidding closes on April 19th.
The property is a secluded getaway with Rock Creek frontage and features a private lake with multiple spring heads. Fully equipped with existing structures, the camp includes cabins, a dining hall that seats 200 with commercial kitchen, wood shop, and blacksmith shop. Outdoor enthusiasts can take advantage of the hiking and biking trails, as well as archery and rifle ranges. Located only 31 minutes from the Asheville Regional Airport, the property is easily accessible for travelers.
Bidding on this unique property will take place online on Rowell Auctions, Inc. website, RowellAuctions.com, until April 19, 2018 at 4:00 PM EDT with Rowell's "dynamic close" extended bidding feature. For more information regarding the property, photos, property information packages, terms and conditions of the auction, visit the Rowell Auctions website at : http://www.CampArrowhead.info
About Rowell Auctions, Inc.
Established in 1936, Rowell Auctions, Inc. has provided clients with the most comprehensive marketing services for more than 80 years with a professional and licensed team that conducts auctions throughout the United States.
If you would like more information about this topic, please contact Samantha Rowell at (800) 323-8388 or email at SRowell@RowellAuctions.com.