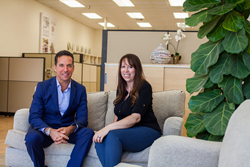 The most valuable information free to all
REDLANDS, Calif. (PRWEB) March 30, 2018
In August 1998, Sun co-founder Andy Bechtolsheim became Google's first investor when he wrote a check for $100,000. Last month, Noble Media, the California company which has engineered a challenge to Google's dominance of local advertising, got its first outside capital in the form of a $200,000 check.
Noble Media, a B-certified media company based in Redlands, California secured $200,000 from the Valley Economic Development Center (VEDC), a non-profit community funder, which the company will use to execute an expansion of greater penetration of the company's existing market. Noble Media produces a digital and physical media channel which through proprietary technology and structure enables advertisers to influence every single household or business in a locality.
While Noble Media's funding story may sound like Google's, its roll-out strategy and community focus sounds like Starbucks. Like Starbucks, Noble Media's first phase of growth will be regional, an eleven-fold site expansion in the first year followed by two phases of increasingly aggressive out-of-state and nationwide expansion, in which up to 36 local media channels are launched each month, the equivalent of adding 4.3 million households in circulation each month. As Starbucks provided a "third place" for Americans besides work and home Noble Media aims to provide a "special something" that connects people in American communities.
The company, founded in 2001, began in 2014 a program of rigorous research and development, financial, operational, and strategic planning and intensive market research.
The $200,000 in capital will be used to test Noble Media's capacity to achieve specific sales performance and market share goals, which if achieved, can be used to plausibly infer the firm's capacity to achieve similar performance across the U.S. When the planned-for roll-out rates and sales performance targets are met, Noble Media is projected to capture an average of 1% to 2% of the $400 billion total spent on advertising annually (local and national) in the United States, or $4 billion to $8 billion annually.
Today, Noble Media provides world-class media in digital and physical form including through its flagship The Reader, a print, local magazine mailed to 390,000 people in 17 Inland Empire cities, with a digital/mobile channel and complement updated in real time. Its advertising sales persons are generating some of the highest average annual sales in the sector, each averaging $360,000 a year in sales revenue while costing the company an average of only $90,000 a year.
While Noble Media's first priority is financial performance, not only will it "not be evil" it has a full-blown social impact strategy. In short, its strategy is to bring about radical, disruptive improvement of the level at which Americans are informed. Noble Media's model at scale will enable all Americans, including the 45 million Americans currently living in poverty and 119 million without broadband internet access to gain through the power of honest information.
Two months before the start of negotiations with the VEDC, Chris Theodore, one of two co-founders of Noble Media, produced a video on why his company sought $200,000, which he credits for helping securing the capital.