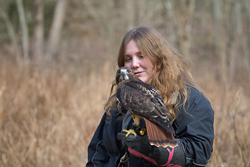 "She has a natural ability for nurturing wildlife back to health to give birds a second chance at life. Christine's story is quite inspirational, and intoBirds was delighted to share her story."
RIDGEFIELD, Conn. (PRWEB) March 26, 2018
IntoBirds, an online magazine, community, and resource for all things birds connected with Christine Peyreigne, a female falconer, and president of Christine's Critters, Inc., a Wildlife Rehabilitation and Education non-profit in Weston, Connecticut whose mission is to rescue, rehabilitate and release injured birds of prey.
Peyreigne, 21, is a licensed general class falconer, and a full-time college student with plans to become a veterinary technician. Her long-term goal is own and operates her an animal wildlife rehabilitation center in southern Connecticut.
Currently, she's caring for 15 permanent birds of prey, 40 reptiles and more than 100 birds that receive care and release each year. And she trains and hunts on a daily basis with her male Red-tailed Hawk named Theron.
How is she able to fit all this and more into her busy life?
Christine's fueled by her passion and love for wildlife.
"Christine is an amazing young woman driven by her passion for birds of prey, and her desire to educate people about how humanity harms wildlife," says Reneé Hewitt co-founder, and editor-in-chief of intoBirds. "She has a natural ability for nurturing wildlife back to health to give birds a second chance at life. Christine's story is quite inspirational, and intoBirds was delighted to share her story."
Learn more about what it's like to be a female falconer, aid injured birds of prey and rehabilitate them for release back into the wild, or what's it's like to hunt with a Red-tailed Hawk.
And read about each of Christine's amazing critters and more.
Read intoBird's profile about Christine's Critters here.
People who enjoy bird watching, appreciate birds, bird photos or reading fascinating stories about birds should visit http://www.intobirds.com.
About IntoBirds
IntoBirds is an online magazine, community, and resource for all things birds based in Ridgefield, Connecticut. Whether it's nature, art, architecture, engineering, literature, film or fashion, birds inspire creative minds to reach for the skies. Whatever you call yourself: a bird watcher, bird enthusiast or just love birds, we all share a common trait: we are into birds. Learn more and follow IntoBirds at http://www.intobirds.com, @intobirds, and #intobirds.