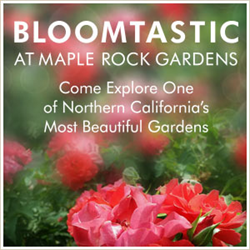 …one of the finest private gardens in Northern California.
NEWCASTLE, Calif. (PRWEB) March 27, 2018
Bloomtastic, one of the finest gardening events in the Greater Sacramento Area, will be held Saturday, May 12 from 9 am. to 3 pm. at Maple Rock Gardens. Maple Rock Gardens is only opened to the public a few times a year, making Bloomtastic one of the most anticipated events of the season. Come and explore the 30-acre private estate garden located at 100 Clark Tunnel Road, in Newcastle, CA. This annual garden celebration is hosted by High-Hand Nursery, a local nursery and greenhouse in Loomis, California, that offers high-quality plants, trees, and gardening services.
Guests attending Bloomtastic will enjoy meandering through unique attractions and displays of spring color that local radio host, Fred Hoffman from KFBK/KSTE describes as, "...one of the finest private gardens in Northern California." Along with 4 acres of farmland, Maple Rock Gardens is also home to one of the largest garden railroads in the state. From formal English and Japanese style gardens to the enchanting Secret Garden, Turtle Falls, and Peony Forest, guests will experience the beauty of a variety of plants including Japanese Maples, ferns, iris, dogwoods, roses, lavender and more. With live music and farm fresh food and beverages for sale from High-Hand Cafe, Bloomtastic is an enjoyable and memorable experience for avid gardeners and the general public alike.
Tickets for Bloomtastic are available online at Highhand.com or directly from High-Hand Nursery, 3750 Taylor Road in Loomis. Adults are $10 and children 12 and under are free. For more information contact High-Hand Nursery at 916-652-2065 extension 1.
______________________________________
About High-Hand Nursery and High-Hand Cafe
Maple Rock Gardens is owned and operated by High-Hand Nursery in Loomis, voted the best garden center in the Sacramento area by KCRA's A-List City Voter. High-Hand Nursery in Northern California offers gardeners a diverse repertoire of high-quality trees, plants, vegetables, shrubs, perennials, succulents, topiaries, hanging baskets, and more from top growers in the region along with a plethora of garden accessories, pottery, sculptures, artwork, outdoor furniture, fountains, and other unique treasures.
High-Hand Nursery is open every day from 9-5 pm. Monday through Saturday and 9 am.- 4 pm. on Sunday. The nursery's knowledgeable staff and salespeople are ready to assist visitors with all of their gardening needs from plant choice and care, to landscape consultation, design services, aquatic garden design and installation.
While at the nursery, visitors can grab a bite to eat at the High-Hand Cafe, the nursery's farm-to-fork restaurant voted one of the top three best romantic restaurants in the Sacramento area by KCRA's A-List City Voter. The menu at this picturesque garden cafe changes seasonally to showcase hand-made food prepared with fresh, high-quality vegetables, berries, citrus, and fruits from nearby local farms. High-Hand Cafe is open Tuesday through Friday from 11 am. to 3 pm. and Saturday through Sunday from 9 am. to 3 pm.
Guests at High-Hand Nursery can also shop the stores at the historic High-Hand Fruit Shed on the premises. Handmade gifts, gourmet olive oils, balsamic vinegars, mustards, jams, jewelry, unique artwork, garden accessories, and more are available from the High-Hand Mercantile, High-Hand Olive Oil Company, The Flower & Gift Market, and Art Gallery.