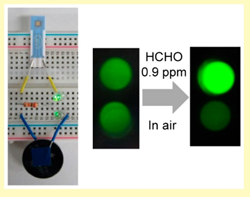 our sensor is low cost, portable, and long lifetime, thereby making it suitable as a 'detect to warn' sensory system
TSUKUBA, Japan (PRWEB UK) 27 March 2018
International Center for Materials Nanoarchitectonics (MANA), Japan, publishes the March 2018 issue of the MANA E-Bulletin featuring an interview with Genki Yoshikawa about his research in "de facto standard for olfactory sensing", and research highlights from high impact publications on 'Environmental Monitoring of Formaldehyde'; ' Modulating Superconductivity of Two Dimensional Atomic Layers of Indium'; and 'Unprecedented Energy storage using Metal Oxide/Graphene Nanosheet Composites'.
March 2018 issue of MANA eBulletin
http://www.nims.go.jp/mana/ebulletin/
Feature: Towards de facto standard for olfactory sensing
http://www.nims.go.jp/mana/ebulletin/
Video interview (2m 18s)
http://www.nims.go.jp/mana/ebulletin/feature.html
Genki Yoshikawa, Group Leader at the International Center for Materials Nanoarchitectonics (WPI-MANA), at the National Institute of Materials Science (NIMS) discuss the invention and potential applications of the 'Membrane-type Surface stress Sensor (MSS). The limit of detection of the sensor is approximately 0.1 mN/m, a figure of merit that is compatible with laser read-out cantilever sensors and more than 100 times higher than conventional piezoresistive cantilever sensors.
======
Research Highlights
http://www.nims.go.jp/mana/ebulletin/
Environmental Monitoring of Air Pollution: 'Detect to Warn' Sensing System for Monitoring Formaldehyde
http://www.nims.go.jp/mana/research/highlights/vol35.html
Compact 'referenced—chemiresistive-sensors' consisting of network-assembly of semiconducting carbon nanotubes and hydroxylamine hydrochloride enable highly selective and continuous measurement of formaldehyde for environmental monitoring.
Formaldehyde (HCHO) and related chemical compounds used in the construction industry to prevent decay of building materials are known to cause dermatitis, asthma, and other such ailments. Such health issues related indoor air pollution–referred to as 'sick building syndrome'–is a global problem with World Health Organization (WHO) guidelines recommending a maximum permissible concentration of HCHO of 0.08 ppm indoors. But monitoring levels of HCHO is not trivial, with conventional technology being expensive, bulky, and although compact monitoring systems exist, they require renewal of 'detection tags' after each measurement, and have issues related to continuous and long term monitoring.
Here, Shinsuke Ishihara and colleagues at the WPI-MANA, National Institute for Materials Science in Tsukuba and collaborators at the Nanomaterials Research Institute, National Institute of Advanced Industrial Science and Technology (AIST), Tsukuba, report on the development of an innovative HCHO detection system based on a combination of hydroxylamine hydrochloride and network-assembly of semiconducting single walled carbon nanotube (SWCNTs) sensors capable of highly selective and continuous monitoring. Specifically, the SWCNT sensor is reusable; has a detection limit of 0.016 ppm; HCHO-selectivity of 105 to 106 times higher than other vapors such as water and methanol; and the implementation of a reference sensor adjacent to an active one prevents false positives.
The reaction of HCHO with hydroxylamine hydrochloride generates hydrochloric acid, which causes changes in the conductivity of the SWCNTs that are measured with an external electrical circuit. The reference sensor does not have hydroxylamine hydrochloride present at its surface, hence the sensor does not react to HCHO.
"The high performance and versatility of our sensors was achieved by designing devices with precise separation of semiconducting carbon nanotubes, monodisperse treatment of carbon nanotubes and improvement of active surface area by networking," says Ishihara. "Furthermore, our sensor is low cost, portable, and long lifetime, thereby making it suitable as a 'detect to warn' sensory system."
Reference and sensing devices are visualized using LEDs. The presence of formaldehyde is shown by the brighter LED.
Reference
Shinsuke Ishihara, Jan Labuta, Takashi Nakanishi, Takeshi Tanaka, and Hiromichi Kataura, Amperometric Detection of Sub-ppm Formaldehyde Using Single Walled Carbon Nanotubes and Hydroxylamines: A Referenced Chemiresistive System. ACS Sens. 2, 1405–1409, (2017).
======
Modulating Superconductivity of Two Dimensional Atomic Layers of Indium with Charge Transfer from Self-assembled Organic Molecules
http://www.nims.go.jp/mana/research/highlights/vol36.html
Charge and spin transfer from copper-phthalocyanine organic molecules self-assembled on superconducting atomic layers of indium modifies the superconducting transition temperature of the indium.
There have been tremendous advances in the self-assembly of organic molecules on solid surfaces via non-covalent bonds. Furthermore, research on self-assembly of two dimensional (2D) materials has yielded deep insights into the properties of superconducting 2D materials with atomic-scale thickness that could potentially lead to the creation of new hybrid materials and electronic devices through the so-called 'bottom-up' approach based on self-assembly as opposed to nanofabrication using etching and lithography. Notably, the unique physical proprieties of organic molecules offer advantages in terms of flexible and rational design and are an appealing approach with the possibility of opening up new fields of research.
With a view to controlling superconductivity in 2D atomic layers, Takashi Uchihashi and colleagues at International Center for Materials Nanoarchitectonics (WPI-MANA), National Institute for Materials Science,Tsukuba, Japan and collaborators at the Institute for Molecular Science, Okazaki, Japan, and Graduate School of Advanced Integration Science, Chiba University, Chiba, Japan, report the first observation of self-assembled organic molecules modulating the superconducting transport properties of an underlying 2D atomic-layer metallic material.
Specifically, the researchers fabricated 2D heterostructures consisting of an atomic layer of indium (In) epitaxially grown on a silicon substrate and a highly ordered metal-phthalocyanine (MPc, M = Mn, Cu) self-assembled onto the In layer. In this heterostructure, "charge transfer and local spins due to the presence of organic molecules modified the superconducting properties of the atomic layer".
Examination of the 2D heterostructures led the researchers unexpectedly find that that substitution of the atom of metal-phthalocyanine from Mn to Cu changed the superconducting transition temperature (Tc) from 3.05 K to 3.20 K, that is, from a negative to positive direction. Further analysis combined with scanning tunneling microscopy (STM), X-ray magnetic circular dichroism (XMCD), and ab initio calculations revealed that this distinct phenomenon was due to competition between charge and spin effects.
"Particularly important is the directionality of the relevant d-orbitals that play a decisive role in magnetic interactions," says Uchihashi. "It strongly suggests the feasibility of controlling macroscopic superconducting properties through manipulation of molecular states."
Reference
Shunsuke Yoshizawa et al, ,Controlled Modification of Superconductivity in Epitaxial Atomic Layer−Organic Molecule Heterostructures, Nano Lett. 17, 2287−2293, (2017).
===
Metal Oxide/Graphene Nanosheet Composite Exhibits Unprecedented Energy Storage Properties
http://www.nims.go.jp/mana/research/highlights/vol37.html
Single-layer metal oxide nanosheets sandwiched between graphene layers exhibit record energy storage figures of merit.
The unique physical properties of nanomaterials are important for the realization of high performance energy storage devices. For example, the ultra-narrow spaces between multilayered two-dimensional (2D) nanosheets are suitable for high efficiency ion intercalation, namely, reversible insertion of ions into the spaces between layers. Importantly, nanomaterial structures with nearly ideal nano interlayer spaces for ion intercalation exhibit short diffusion distances and large numbers of active sites —properties that are essential for fabricating electrode materials of high performing energy storage devices.
However, despite extensive research on 2D materials such as graphene and transition metal dichalcogenides the energy storage capacity has not met expectations. More recently, research has also turned to explore 2D metal oxides—materials with many more active sites, and even shorter diffusion lengths. The main issues to resolve include synthesis of genuine single layered metal oxides, prevention of 'restacking' during chemical processes to fabricate electrodes, and improving their electrical conductivity.
Here, a group led by Takayoshi Sasaki at the International Center for Materials Nanoarchitectonics (WPI-MANA), National Institute for Materials Science (NIMS), Tsukuba, Japan, describe the synthesis of superlattice-like MnO2/graphene 2D nanostructures that exhibited the best figures of merit for energy storage reported to-date.
The researchers synthesized the MnO2/graphene superlattice structures by 'electrostatic assembly' of MnO2 and graphene in a solution, exploiting the differences in the charged states of the respective materials: The MnO2 nanosheets are negatively charged and reduced graphene oxide (rGO) nanosheets are positive. The two important points about this fabrication process and the resulting nanosheet structures are that the MnO2 nanosheets were 'genuine unilamellar' structures and each of the MnO2 nanosheets was 'stabilized' between the atomic layers of graphene.
The MnO2/graphene nanostructures were used as anodes for Li and Na ion batteries. Electrochemical measurements showed specific capacities of 1325 and 795 mA h g−1 at 0.1 A g−1 and 370 and 245 mA h g−1 at 12.8 A g−1 for Li and Na storage, respectively. "More importantly, an ultralong cyclability with 0.004% and 0.0078% capacity decay per cycle up to 5000 cycles was achieved for Li and Na storage, respectively, outperforming previously reported metal oxide-based anodes to date," state the authors.
"The superlattice composite material described in this paper is based on MANA's concept of 'Materials Nanoarchitectonics',
; says Sasaki. "We have taken two types of 2D materials with differing properties and formed an advanced composite material with synergistic characteristics that are not exhibited by a single material."
Reference
Pan Xiong, Renzhi Ma, Nobuyuki Sakai, and Takayoshi Sasaki, Genuine Unilamellar Metal Oxide Nanosheets Confined in a Superlattice-like Structure for Superior Energy Storage, ACS Nano, 12 ,1768–1777, (2018).
========
News
Nanocar Race II Pre-registration is Now Open
http://www.nims.go.jp/mana/news_room/news/2018030501.html
The 2nd international Nanocar Race (Nanocar Race II) will take place in 2021 at the CEMES-CNRS in Toulouse, France. MANA-NIMS team participated in the 1st Nanocar Race which took pace in April 28-29, 2017 in Toulouse, France, and won the "Fair play" prize. The pre-registration for Nanocar Race II is now open and will close at the end of June, 2018. We are hoping that the next Japan team will make a big success.
=======