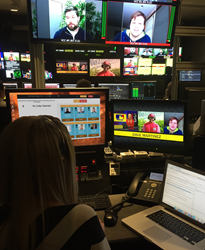 Palisades, NY (PRWEB) March 26, 2018
The Video Call Center (VCC) today announced that it is partnering with Major League Baseball (MLB) as part of a multi-year production support relationship that provides the VCC's patented call computer systems to manage live video caller production within digital programs where fans and special guests from around MLB can interact. VCC's cloud technology and video call computer systems were integrated into the production facility within the MLB Network headquarters in Secaucus, NJ, to address several significant production requirements for MLB:

Expand the number of fans that can participate with the flexibility to enable callers from anywhere in the world to connect from smartphones, laptops and tablets using a variety of native IP video calling apps including Apple FaceTime and Google's Web-RTC format (via Gruveo), which require no downloads for callers, as well as Skype.
Dramatically improve call quality using patented technology from the VCC that delivers proven call reliability in excess of 99%.
Meet MLB's highest quality production requirements with the VCC's caller acquisition technology, including proprietary audio processing that cleanly interfaces with MLB's existing control rooms.
Support for multiple simultaneous callers. An infinite number of stars, experts, and fans can be brought in and put on-air, each using their own preferred device and app.
The VCC's Caller Queue™ management environment, custom-branded for MLB, enables video callers to sign terms, conditions, and releases prior to appearing on air. Caller Queue provides producers with sophisticated caller management and pre-screening tools to ensure participants are appropriate for both content and visual/audio quality. It supports prioritized screening to ensure valuable guests and callers can be cleared for air quickly. Call Queue also gives callers a "green room in the cloud" in which to watch the show right up to their appearance on air.
Call Manager Pro™ software from the VCC provides producers and hosts with a powerful suite of productivity tools to quickly launch/end calls, dynamically and automatically repositioning and resizing call windows to achieve the optimal look-and-feel of programs, and to achieve lip-sync across multiple video call applications.
In addition to technical support services, the VCC is providing training services to MLB personnel in the art and science of live video caller production, sharing knowledge gained over thousands of callers across years of experience, to enable producers to manage non-technical callers from anywhere in the world and from wherever they happen to be, at home, in the office, in their cars, or at the game.
Larry Thaler, CEO of The VCC said "As one of the world's great sports brands, MLB has an exceptionally active fan-base and engaged viewers, who want to interact one-on-one with their heroes. The Video Call Center is very proud that its video calling platform has been chosen by MLB as the foundation for building next-generation engagement experiences for its fans."
More information about the Video Call Center is available at http://www.thevcc.tv. The VCC will also be providing demonstrations April 9-12 at NAB 2018, booth SU10008CM, in Las Vegas.
About The Video Call Center, LLC:
The VCC is a technology and content development company devoted to handling large numbers of IP Video remotes-by-smartphone and putting them on the air through patented workflow and assistive automation (patents #8,767,031, #9,654,731 and other patents pending). The VCC is both a Facebook Live Media Solutions and Broadcast partner. The VCC licenses its software and provides caller acquisition and production services. VCC has produced hundreds of programs for broadcast and the web for clients such as TEGNA, Fox TV Stations, Discovery and TLC. The VCC's advanced caller workflows help to expand audience engagement and extend the reach of its clients' programs. The VCC can be integrated through traditional control rooms or controlled efficiently by the host without a control room. Examples of video caller television programs and complete information about the VCC are available at http://www.thevcc.tv/.
All product names, logos, and brands are property of their respective owners. Major League Baseball trademarks and copyrights used with permission of MLB Advanced Media, L.P. All rights reserved. Skype is a registered trademark of Microsoft, Inc. FaceTime is a registered trademark of Apple Inc.
Media contact for the VCC: Evan Sirof. Tel: +1 845 883 2109. marcommoncall(at)gmail(dot)com