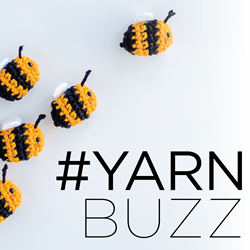 NEW YORK (PRWEB) March 27, 2018
Lion Brand announces the launch of a new weekly newsletter, #YarnBuzz. This newsletter curates news of interest to yarn lovers, especially those who knit and crochet. #YarnBuzz features compelling, up to date information about trending fashion, celebrity, art, pop culture, and out of the ordinary uses of yarn. The free newsletter, of interest to the media, yarn industry, knitters, crocheters and DIY enthusiasts, is released weekly and subscriptions are free.
Subscribe to #YarnBuzz on LionBrand.com
About Lion Brand Yarn Company
Founded in New York City, Lion Brand Yarn Company is a fifth generation family-owned and operated business devoted to inspiring and educating knitters and crocheters with yarns, patterns, how-tos, and ideas that elevate their yarn crafting experience. Year after year Lion Brand drives innovation in the yarn business and pursues excellence in the quality of their products.