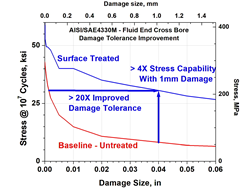 With designed compression, parts last longer and cost less to maintain
CINCINNATI (PRWEB) March 27, 2018
Lambda Technologies has developed a solution to extend fatigue life and delay cracking in the fluid ends of hydraulic fracturing pumps. Using controlled impact burnishing (CIB™), Lambda engineers apply a deep, stable layer of designed residual compression to the cross-bore regions of the fluid ends. By putting the vulnerable region in compression much deeper than the shallow cracks formed from corrosion pitting, stress corrosion, or fatigue, cracks cannot propagate through the layer of high residual compression.
Hydraulic fracturing is currently responsible for just over 2/3 of the natural gas production in the United States. If the cross-bore region of the fluid end fails, the entire pump becomes unusable, making failure extremely expensive. Attempts are also being made to extend component life using more expensive stainless steels, but changing the material or design of any existing part is costly. The engineered use of beneficial residual compression represents a modern way of thinking about production and maintenance support. Because CIB doesn't require any changes to the material or existing design of the part, CIB application provides a relatively inexpensive alternative to improving the life and performance of fluid ends.
Lambda's designed compression has been proven to successfully improve component life and performance, and is already in production in many industries, including aerospace, medical, power, oil & gas and even the fitness industry. "The time and money saved by implementing designed compression through the use of highly controlled surface treatments like CIB is astonishing. It's encouraging to see increasing overhaul applications, but it's even more exciting that a number of OEMs have started including it in the initial design phase of components. With designed compression, parts last longer and cost less to maintain," says Dr. Jayaraman, Director of Materials Research at Lambda Technologies.
Lambda Technologies is an innovative company incorporating a premier materials research laboratory with a world-class engineering and production enterprise dedicated to the development and optimization of surface treatments to improve component performance. For additional information on Lambda Technologies or the LPB process, contact Julie Prevéy at (513) 561-0883 or visit http://www.lambdatechs.com.