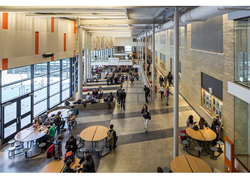 What a privilege it is to be able to work on a building with this kind of history and this kind of importance to the community
CASPER, Wyo. (PRWEB) March 26, 2018
After many years of planning, the Casper community came together to cut the ribbon on the Natrona County High School, signifying the completion of the historic renovation and a journey that began in 2005 with the words "This Place Matters". Adolfson & Peterson Construction (AP) worked collaboratively with Bassetti Architects and Amundsen Architects on the historic project for the Casper community and Natrona staff and students.
"The Natrona High School Historic Renovation has been half of my career at AP so it definitely has a very special place in my heart, and it will always have that special place," stated AP Project Executive Tom Stone. "It is a truly great honor to finally have a realization of a place that looks like the old space, acts like a new space and will serve future students for another 50 years. We hope it will change lives."
The $97.4 million Natrona County High School historic renovation took place over a four-year period. It was phased to work around an occupied high school campus. The original 1924 high school was attended by former Vice President Dick Cheney. The 115,000-sf historic portion of the building was renovated to include an updated theater, classrooms and administrative spaces. The exterior brick and terra cotta was restored, and exterior windows replaced and restored to their original intent. Demolition of later additions to the original building, allowed for the 145,000-sf addition to include a new competition gymnasium, kitchen, commons and courtyard, library, vocational classrooms and labs.
"What a privilege it is to be able to work on a building with this kind of history and this kind of importance to the community," said Kristian Kicinske, Principal at Bassetti Architects. "It is tremendously gratifying to walk through the building and see the students, teachers and staff using and enjoying the building and really seeing the impact that it has had on the community."
"AP was very patient. It was a team effort. They were here every week listening to concerns and troubleshooting with us and doing what had to be done to make the project go forward," said NCHS Principal Shannon Harris. "They did the extra things and helped us out whenever they could, even things that weren't in their scope. We really appreciated AP and all you did."