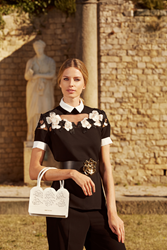 NEW YORK (PRWEB) March 28, 2018
Elegance, strength, and grace are key elements of fashion that transcend both time and trends. The ANNE FONTAINE Spring – Summer 2018 Collection is an exploration of the designer's love and passion for nature. Each new style has been thoughtfully curated and inspired by her travels throughout the world. In this new collection, we take a journey to her native Brazil on a jaunt to the seaside with her to the beaches of Normandy.
Discover the craftsmanship and explore the updated details to classic styles. Exaggerated ruffles and voluminous flounces play off the delicate lace and intricate embroidery to create an androgynous balance. The house codes of pristine whites and rich blacks remain the mainstay of the new Spring-Summer 2018 Collection.
The seasonal line of luxury accessories complements the staple themes throughout the Spring – Summer 2018 Collection. The intricate detailing of bows, stripes, studs, and florals recreate the experiences of the designer's travels. The collection includes handbags, collars, shoes, belts, and cufflinks which complete the wardrobe of the modern woman on-the-go.
Anne Fontaine is a designer that is not only passionate about nature but also very committed to its causes. As a result, she created the Anne Fontaine Foundation in 2011. For more information on the Anne Fontaine Foundation, please visit http://www.annefontainefoundation.org/
Items are available in-store and online at annefontaine.com. Delivery is available to the following countries: US, Canada, Japan, South Korea, Hong Kong, Argentina, India, Mexico, Australia and New Zealand.
Go behind the scenes of our Spring Summer collection.
Please find additional information and imagery at
https://www.annefontaine.com/
ABOUT ANNE FONTAINE
The Maison Anne Fontaine was created in 1994 from the meeting of Anne and her husband, Ari. It is a true story of love and family. The Maison is deeply linked to the passion of its creations through the quality, details, and the defense of French craftsmanship and artisanship.
The Maison Anne Fontaine is known for its expert craftsmanship and the quality of its creations. The Anne Fontaine style is rich in embroidery, lace, ruffles, jabots, and plays of transparency. All of its models are developed in her workshop in Honfleur, using the technique of molding that is commonly used in haute couture. After the opening of the first point-of-sale in 1994 in the district of Saint-Ger¬main-des-Prés in Paris, the House quickly developed.
The Maison now owns more than 50 boutiques around the world including 60 multi-brand outlets and a global website, annefontaine.com.