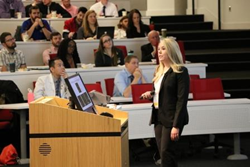 "If you don't think this is cool, then you may be dead." - KCU medical student Ryan Coute
KANSAS CITY, Mo. (PRWEB) March 26, 2018
"If you don't think this is cool, then you may be dead."
The light-hearted comment came from Kansas City University of Medicine and Biosciences (KCU) medical student Ryan Coute as he explained cutting edge techniques to revive patients after cardiac arrest. His joke played well with the full auditorium where energy and passion for scientific research permeated KCU's annual Research Symposium held Wednesday, March 21, 2018.
Close to 800 people attended the all-day event held at the Kansas City and KCU-Joplin campuses. Students, faculty and guest lecturers presented their research on topics such as the neuroprotective effects of a drug used to treat stoke and ALS patients, the role of nuclear hormone receptors and the anterolateral ligament of the human knee.
"This annual event is critical in providing students and faculty an opportunity to showcase their research and engage the local scientific community in scholarly dialogue," said Marc B. Hahn, DO, President and CEO of KCU.
Keynote speaker Dr. Sid O 'Bryant, professor of pharmacology and neuroscience at the University of North Texas Health Science Center shared his ongoing research in the effort to discover precise methods to diagnose and treat Alzheimer's disease, a project inspired by his grandmother who was diagnosed with AD.
"It can take months and thousands of dollars to diagnose Alzheimer's disease," O'Bryant said. "That is simply unacceptable."
The symposium included a poster presentation in which 59 students from the college of medicine, the college of biosciences and clinical psychology shared additional research on topics ranging from the calcium pump of a cell to Duchene Muscular Dystrophy to empathy and stress in medical students.
"It is a little bit intimidating," said Lauren McLean, a college of biosciences student on the research track. "But being able to speak to different professors and students about their research, even making collaborations has been a great experience."
McLean was among the students who received an award for her research presentation. A complete list can be found here.
The research symposium is an opportunity for all students to see other projects from their fellow students. For some, the symposium can even incorporate scientific research into their career paths.
"So far, I've really enjoyed being involved in research," McLean added. "As a future physician I would like to incorporate research into my career."
About Kansas City University
The Kansas City University of Medicine and Biosciences (KCU), founded in 1916, is a fully accredited, private not-for-profit university with a College of Biosciences and a College of Osteopathic Medicine. The College of Osteopathic Medicine is the oldest medical school in Kansas City, Mo., and the largest in the state. KCU is the second-leading producer of physicians for both the states of Missouri and Kansas.
KCU opened a second medical school in Joplin, Mo., in 2017 to help address the growing need for primary care physicians in the region's rural communities.