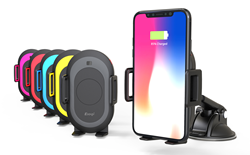 Infra-red sensors locate the phone and secure it without help from the driver.
LOS ANGELES (PRWEB) March 29, 2018
The world of mobile car mounts is about to change. The company Esorun has listened to what many people have complained about in terms of phone accessories and have upgraded the average mount to create something more compelling than ever before. After a successful Indiegogo Campaign, the company has set to change the world of technology with its brand new one-touch, wireless, fast-charge car mount.
The Esoqi car mount is easy to use, hands free, and even offers 10W fast wireless charging. Car mounts in the past haven't had even close to the number of features that this latest solution offers. The Esoqi smart car mount literally makes charging your phone in the car the easiest it's ever been.
While there are other car mounts on the market, none of them have the unique features that are Esoqi offers. Using infrared technology, this mount is able to sense the size and proximity of all smartphones with sure-lock grip and release technology. It allows for hands-free, wireless charging, and functionality. Those that have tried car mounts in the past will find that this is an option that works far easier than most. Imagine using a smartphone without using your hands, safely, without worry while driving.
Its top features include infrared-sensors that locate phones and secure without help, anti-slip grip for incredibly stable hold on bumpy streets, dash, windshield, & air vent attachments, and Qi wireless fast charging.
Esorun was able to get full funding through an Indiegogo Campaign that launched March 27. Now that the Indiegogo Campaign has become a success, the company aims to get the car mount into the hands of consumers quickly.
About Esorun:
Esorun is a company that has been dedicated to creating gadgets and accessories for smartphones. They are an innovative company that has been working with power banks, chargers, data cables, and much more, creating outstanding solutions since 2009. Their focus is on innovation above all else, and they go straight to the public to figure out what people need before creating anything.
The mission statement of Esorun has been stated as, "Enjoy your life", and with the products that they put out, it is a lot easier to manage, that's for certain. With the release of the Esoqi car mount, they once again prove that they have the public in mind, not just profit.