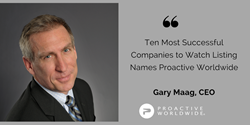 SCHAUMBURG, Ill. (PRWEB) March 28, 2018
Competitive intelligence consultants Proactive Worldwide (PWW) were among the firms profiled in this year's Ten Most Successful Companies to Watch by Insights Success magazine in its recent March 2018 issue. The publication, which tracks tech innovations and provides editorial research and content on professional enterprises making a difference in the global business management market, noted PWW's strategic intelligence model excels at incorporating extensive R&D, new technologies, and ongoing collaborations with software partners to improve and expand ways in which actionable information is extrapolated and used.
Insights Success highlighted a number of PWW's newest advancements in strategic planning, competitive and market intelligence, and customer benchmarking metrics, which are providing clients with accurate insights and direction toward more profitability and growth. Among these are PWW's MedForecast™, a subscription-based model that tracks and predicts the approval status of new drug treatment solutions, and "Ask an Analyst," a rapid-response data analytics service driven by PWW's vast trove of continuously updated industry research datasets and analytic tools to verify competitive position within given market sectors.
Insights Success mentioned PWW's exceptional research, development, and deployment of its highly strategic War Gaming and simulation modeling programs that allow clients to better visualize and forecast strategic outcomes in a fluctuating marketplace. The organization's leading practitioners are also strong advocates for professional development, having authored much of the Competitive Intel industry's current standard practice guidelines used by the Society for Competitive Intelligence Professionals association. CEO Gary Maag and President David Kalinoswki are sought-after thought leaders, facilitating workshops and interactive panels during prominent forums and conferences throughout the year in the U.S., Canada, and Europe.
About Proactive Worldwide, Inc.
Proactive Worldwide, Inc. is a global research and strategic intelligence consulting firm that provides evidence-based, constructive information within the competitive intelligence, market intelligence, and customer insights domains. Anchored by primary source research for over 21 years, Proactive's multilingual professionals assist our clients with offerings that include but are not limited to competitive research services, competitor assessments, market entry and defense strategies, war gaming simulations and scenario planning events, and customer experience and user experience studies. To learn more, visit http://www.proactiveworldwide.com.