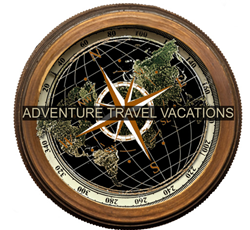 "Set your Compass to a Lifetime of Adventures!"
PRESCOTT, Ariz. (PRWEB) March 28, 2018
The Big Buzz in the Travel Industry nowadays is Adventure Travel Vacations! Look no Further!
African Safaris and Travel, under the leadership of Louis van Tonder and Terri New is expanding their safari adventures from to include worldwide Adventure Travel Vacations!
Louis has been in the safari industry since the late seventies both as safari guide, as well as, camp owner in both Zambia and South Africa. He is an adventure travel specialist who knows both the terrain and numerous languages spoken in different parts of Africa. Terri has been a world traveler and multimedia producer for 30 years. Their combined experience brings a plethora of adventures to folks who have set their compasses to a lifetime of adventures!
The saying goes that once the travel bug has bitten you, there is no escape from it, and along with the expansion of their services and new company, there is a new comprehensive website to use as a source of information - See http://www.adventuretravel.vacations .
The website is easy to navigate, it is visually appealing and an informative source of adventure travel, including Culinary Travel, Polar Bear Trips, Luxury Train Trips, Amazon River Cruises, Adventures to the Galapagos Islands, and many more! If your envisaged adventure trip is not listed on the website, don't despair – it can be custom designed for you! In fact, the majority of their trips are arranged for fully independent travelers, couples and friends - and not just for larger groups!
In addition to arranging custom adventure travel vacations, Louis and his wife Terri also offer escorted adventure trips for those more comfortable traveling with expert guides.
Terri has travelled the world most of her adult life, and brings a wealth of experience to Adventure Travel Vacations!
Visit the website and explore the exciting possibilities offered by "Adventure Travel Vacations." You can do adventure travel in the lap of luxury, or do it on a budget. Either way your dream Adventure Travel Trip will be the greatest adventure of your life!