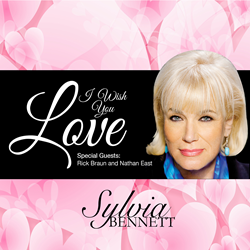 Because it's all we need... because it's the answer and because it never fails. These are only but a few of the reasons why our favorite songbird, vocalist Sylvia Bennett, wishes us Love on her latest outing of recorded musical bliss! Sandy Shore, SmoothJazz. com
MIAMI (PRWEB) March 27, 2018
International Recording Artist Sylvia Bennett is celebrating the upcoming release of her eleventh studio album titled I Wish You Love with a CD Release Dinner and Show on Saturday, April 21 at 7 p.m. at the Mariposa Restaurant at Neiman-Marcus in Coral Gables, Florida.
Sylvia Bennett dips into her collection of international favorites from the classic songs that she has romanced over the years in several languages and brings you the English versions of a wonderful assortment of love songs. The luxe and delightful Mariposa Restaurant at Neiman–Marcus will present a $75.00 per person (gratuity and tax included) prix fixe three–course dinner followed by the show. For more information or to call in your reservation, please contact Janet at (786) 205–1895. You can also reserve online at: http://ow.ly/oC5X30j7zPC. Payment required at the time of reservation. Seating is limited.
Sylvia Bennett is a Grammy nominated international recording artist and songwriter who has performed at Presidential Inaugurations and opened for such renowned artists as Bob Hope, Phyllis Diller, Jackie Mason, Dizzy Gillespie, Barry Gibb and David Brenner. Discovered by the legendary Lionel Hampton, she has since captivated audiences and critics alike with her sultry and honeyed toned voice. She's the inimitable, unforgettable Sylvia Bennett.
I Wish You Love will be available for pre-sale on March 30, 2018 on the SmoothJazz.com Listening Loft Store, Amazon, CD Baby, BandCamp and iTunes. Visit SylviaBennett.com for the latest news.