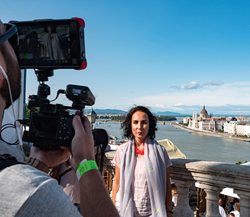 I truly believe your heritage is what makes you unique. My mindset since coming to the US has been to learn from others, improve myself and follow my dreams.
LOS ANGELES (PRWEB) March 28, 2018
Fueled by a record number of newly-hatched women's movements, many believe the time is ripe for women to move into leadership roles. Diana Roberts believes that the time has been ripe since she was 20 years old, when she left her native Hungary with 350 deutschmark, her parents' blessing, and the belief that there were opportunities waiting for her in America that she could not find in her homeland.
Fast forward 17 years and she has proven her younger self to be correct. As President of Pier to Pier Brokers, a successful boutique real estate firm in the highly competitive South Bay market of Los Angeles, she exemplifies the fearless, entrepreneurial spirit found in women leaders. "I truly believe your heritage is what makes you unique. My mindset since coming to the US has been to do learn from others, improve myself and follow my dreams," says Roberts.
In addition to being agent and owner of Pier to Pier, Diana is a mother to two young California-born boys who speak fluent Hungarian. Her fondness for her native country draws Diana and her husband Blake back to Europe every summer to immerse their sons in the culture she grew up in.
It was during their last summer trip that Diana felt compelled to share the beauty of her native Hungary on video. She spontaneously bought a plane ticket for Brian Hawkins, Video Director for Pier to Pier, and with him filming, she improvised 2-3 minute clips at various landmarks and cultural draws around Budapest. The result was "Budapest Stories" - an 11 episode video series that quickly went viral after being discovered by social media travel sites. To date the series has over 500,000 views.
Diana's no stranger to talking in front of the camera - she and Blake have firmly embraced video and digital technology as part of their regular marketing strategy at Pier to Pier. Pier to Pier's video content is stylized and progressive, utilizing professional video techniques and introducing unique storytelling, music, and creative choices more often seen in advertising agencies.
The timing was perfect for the release of "Budapest Stories". The country is currently experiencing a surge in tourism, in part thanks to Andy Vajna, the well-known Hollywood movie producer (Terminator, Rambo) who recently established Origo Studios there, attracting international production companies and quickly boosting the nation's film industry from $5m to $280m. Additionally, the popularity of Airbnb has increased interest in tourism abroad.
Diana's videos feature her perspective on the food, culture and lifestyle she grew up enjoying as a child. As a Hungarian-American, she has a unique viewpoint on what western tourists might want to know about when visiting Hungary. The clips convey her love for her homeland and are gorgeously shot, resulting in a visual love letter to her native country that has resounded with people internationally.
About Pier to Pier: Pier to Pier Brokers is a fast-growing, innovative creative agency that breaks the real estate brokerage mold by utilizing storytelling, technology, and innovative communication to promote and create a personal connection with the properties they represent.