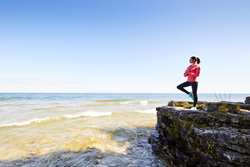 DOOR COUNTY, Wis. (PRWEB) March 28, 2018
The birds chirping, wild flowers peaking out of the ground, and the smell of dew on an early morning means spring is here. April in Door County is filled with activities to enjoy the outdoors. Whether visitors are into hiking, biking, or fishing there is something for everyone.
April Events
Reel in the prize-winning catch at the Brown Trout Tournament in Baileys Harbor, April 19-22.
Girlfriends unite for Sassy Sister's Weekend in Sturgeon Bay, April 20-22.
Get a taste of traditional Belgian cuisine at Booyah and Bread at the Belgian Heritage Center, April 22.
Visit DoorCounty.com for seasonal lodging packages along with spring retail, dining, and activities deals.
Did you know?
The Brussels area of Door County is the largest Belgian-American settlement in the United States.
On-Going Spring Activities
•Door County Trolley- Enjoy blossoms across the peninsula along with wine tasting, a quaint carriage ride, and lunch.
•Crossroads at Big Creek-View the sucker run. Hundreds of suckers' spawning throughout the creek at this 115-acre preserve.
•Door County Land Trust- Grab the binoculars and go birding.
•White Gull Inn- Enjoy the award-winning Door County Cherry French Toast with 100% pure Door County maple syrup. Syrup season in Door County runs roughly March through early April.
•Flour Pot LLC- Learn how to make a traditional Belgian Pie. Take home the recipe and the finished product.
•Potawatomi State Park- Climb to the top of the 75-foot observation tower for a great view of the park and the bay of Green Bay.
Can't Miss Arts & Culture Event
April 5-22, 2018 – Get lost in the mind of Spalding Gray in Gray's Anatomy performed by Doug Mancheski at Third Avenue Playhouse in Sturgeon Bay.
Stay Connected at DoorCounty.com
Door County is located in the northeast corner of Wisconsin. Surrounded by Lake Michigan, it is one of the top leisure travel destinations in America. Door County features 300 miles of shoreline, 34 named islands, 11 lighthouses and 5 state parks. It is known for its natural beauty, artistic offerings, outdoor recreation and local cuisine and offers scenic seaside experiences in the heart of the Midwest.