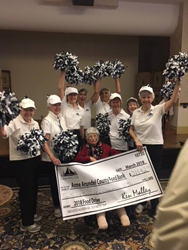 This year's successful Food Drive is a great example of resident involvement in the community. Our residents and staff are making a difference to help improve the lives of those less fortunate
ANNAPOLIS, Md. (PRWEB) March 27, 2018
Ginger Cove today announced that its residents will donate a record $21,542 in cash contributions and an additional 546 pounds of food to the Anne Arundel County Food Bank, the equivalent of 160,000 pounds of food, to feed almost 3,000 people.
The cash contribution included a $10,000 anonymous gift from a resident to support the annual campaign, which was chaired once again by resident Shirley Lieberman under the auspices of Ginger Cove's Religious Life Committee. It is the third consecutive year that Ginger Cove residents have supported the food bank, with increasing participation from staff and residents each year.
"This year's successful Food Drive is a great example of resident involvement in the community," said William M. Holman, Ginger Cove's Chief Executive Officer. "Our residents and staff are making a difference to help improve the lives of those less fortunate," he added.
About Ginger Cove
Celebrating its 30th year in operation this year, Ginger Cove is Annapolis' premier life care retirement community. Located on 30 wooded acres along Gingerville Creek, it is home to 350 active residents. For more information about Ginger Cove visit http://www.gingercove.com or call (410) 266-7300.
About Anne Arundel County Food Bank
Founded in 1986, the Anne Arundel County Food Bank (AACFB) was established to collect, purchase, and distribute food to not-for-profit, human service organizations in Anne Arundel County. The AACFB is the only free multipurpose agency in Maryland that provides food, nutritional supplements, medical equipment, furniture, vehicles, appliances and more – free of charge. To ensure all residents of Anne Arundel County are covered, especially those in low income communities, we offer our services free of charge. To learn more about the Anne Arundel Food Bank, visit http://www.aafoodbank.org.