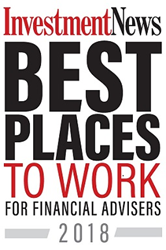 ATLANTA (PRWEB) March 28, 2018
SignatureFD, a leading privately held financial firm headquartered in Atlanta, is proud to be honored by InvestmentNews as one of the 50 Best Places to Work for Financial Advisers nationwide. Winners of this inaugural program are recognized for their efforts to attract and retain great talent and empower team members to provide clients with best-in-class investment and financial planning advice.
"Our goal is to help our clients make an impact with their wealth, which includes their time, money and relationships," said Heather Robertson Fortner, Chief Compliance Officer and Chief Operating Officer. "To be recognized among the InvestmentNews Best Places to Work for Financial Advisers affirms our core values and ongoing commitment to fostering teamwork and creating a work culture that enriches the lives of our team members and clients."
Members of the SignatureFD team will accept the award at the InvestmentNews Best Places to Work for Financial Advisers event in Chicago on May 15, 2018. The entire list of winning financial advisory firms can be found in the InvestmentNews March issue.
About InvestmentNews
InvestmentNews is the leading source for news, analysis and information essential to the financial advisory community. Since 1998, our standard of editorial excellence and deep industry knowledge has allowed us to educate, inform and engage influential financial advisers. Through a weekly newspaper, website, newsletters, research, events, videos and webcasts, InvestmentNews provides exclusive and up-to-the-minute news, as well as actionable intelligence, that empowers financial advisers to serve their clients and run their businesses more effectively whenever, however and wherever they need it.
About SignatureFD
At SignatureFD, we believe that people want to make an impact with their wealth - their time, their money and their relationships. SignatureFD is a purpose-driven financial design company that helps clients design their financial futures to maximize their impact. Founded in 1997, SignatureFD provides comprehensive financial services, decision-support, specialized communities and resources that are delivered with fee transparency and objective, independent advice. For more information, visit: https://www.signaturefd.com/