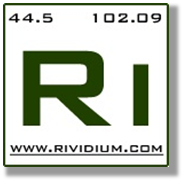 RiVidium's strategy has never been more compelling, with a vision for the future and our forecasted deployment of TripleCyber Protocols initiatives, we will win the hearts and minds of our customers," said West, Chief Operating Officer
MANASSAS, Va. (PRWEB) March 28, 2018
RiVidium Inc. (dba TripleCyber) announced that Lawrence West has been appointed Chief Operating Officer (COO), taking over from interim COO Xio Smith, who will now be the Chief Human Capital Officer (CHCO) for RiVidium. West was previously President and Chief Executive Officer for Poseidon Group, LLC. West will report to Manny Rivera, President and CEO of RiVidium.
"Lawrence is a seasoned and trusted leader who consistently delivers results. He is uniquely qualified to drive strategic prioritization and accountability within RiVidium, with a laser-focus on operational excellence," said Manny Rivera, President and CEO, RiVidium. "I have tremendous confidence in Lawrence's ability to align RiVidium's world-class culture with industry-leading operational practices to drive and extend the next-generation of RiVidium's market leadership."
Effective immediately, West will assume responsibility for overseeing RiVidium's three-line Divisions: Human Capital, IT & Health and Cyber & Intel. West will be responsible for the alignment and prioritization of company investments and ensuring operational excellence across the company.
"RiVidium's strategy has never been more compelling, with a vision for the future and our forecasted deployment of TripleCyber Protocols initiatives, we will win the hearts and minds of our customers," said West, Chief Operating Officer. "I am incredibly energized to help lead the company to its next phase of innovation tied with operational excellence."
West has over 27 years of progressive management experience with over 21 spent in senior management and executive leadership positions. He is a former U.S. Air Force Officer with extensive systems engineering and project management experience on multi-million-dollar, classified weapons systems. He was a Big-4 management consultant with operations and business development responsibilities for KPMG Consulting/BearingPoint working on large-scale, automated information systems and business process improvement projects. He was the founder and Chief Executive Officer (CEO) of multiple technology companies at the height of the "dot-com" era. He was the youngest Senior Executive Service (SES) member appointed to a career-status position in U.S. Navy history, leaving federal service in 2004 at the level of SES-3. Since his tenure with the Department of Navy, Mr. West has founded and operated several ventures that have either been acquired, sold or still operate profitably today.
West holds a BA in Business Management and a BA in Economics, North Carolina State University, Raleigh, North Carolina and an MBA, Western New England, Graduate School of Business, Springfield, Massachusetts.