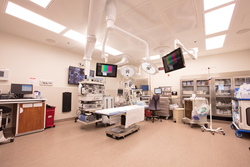 There are many disinfectant technologies available, but we feel Indigo-Clean is the right tool to help keep our patients safe.
HENDERSON, Nev. and KENOSHA, Wis. (PRWEB) March 28, 2018
Henderson Hospital, the newest acute care hospital within The Valley Health System (VHS), recently opened a four-story medical office building, which houses a new outpatient surgery center. This center features two surgical suites, both with Indigo-Clean continuous environmental disinfecting operating room (OR) light fixtures, to help reduce the risk of surgical site infections.
"We currently have Indigo-Clean disinfectant lights in all of our inpatient and outpatient surgical suites and emergency department patient bays," said Sam Kaufman, CEO and Managing Director of Henderson Hospital. Another VHS acute care facility, Spring Valley Hospital, installed the lights in its hybrid operating suite in November 2016.
Kaufman also noted, "Indigo-Clean has been a great partner in our fight to maintain a safe, clean environment for our patients. There are many disinfectant technologies available, but we feel Indigo-Clean is the right tool to help keep our patients safe."
Indigo-Clean fixtures use light-emitting diodes (LEDs) to generate visible white light that also contains a narrow spectrum of indigo colored light. This indigo color uses a wavelength of 405 nanometers (nm) to automatically, safely and continuously disinfect the air, and hard and soft surfaces. The 405nm light is absorbed by molecules within bacteria, producing a chemical reaction that kills the bacteria from the inside as if common household bleach has been released within the bacterial cells. When the OR is not being used, the lights can be switched to an Indigo-only mode, providing a higher degree of safe disinfection.
"We are thrilled The Valley Health System continues to choose Indigo-Clean to partner with to bolster their current cleaning methods throughout their system," said Cliff Yahnke, Ph.D., Kenall's Director of Clinical Affairs for Indigo-Clean™. "Indigo-Clean is a perfect complement to any healthcare facility's current cleaning efforts. Occupancy sensors can operate the lights automatically, eliminating the need for additional labor, training, and compliance. Indigo-Clean continuously disinfects the environment in the areas which can't be shut down due to high utilization or turnover, and because it uses LED technology, it's designed to last for 10 years with no bulbs to replace."
About Henderson Hospital
Henderson Hospital is a member of The Valley Health System, a network of six acute care hospitals that provide care for patients throughout Southern Nevada and nearby communities. Located in Henderson, NV, the hospital offers emergency care, surgical services, including an ambulatory surgery center, cardiovascular care, women's health and maternity services.
About Kenall, manufacturer of Indigo-Clean™
Indigo-Clean™ is an affiliate of Kenall Manufacturing, which has earned a reputation for lighting challenging applications. Since its inception in 1963, Kenall has been known for superior quality, exceptional value, and durable solutions, and it is proud to provide sealed lighting for specialized healthcare; containment and clean spaces; security lighting for detention facilities and transportation applications. Kenall products are designed and manufactured in the USA and meet the guidelines established under the Buy American Act and the North American Free Trade Agreement.