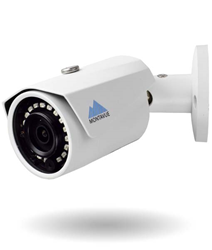 We have installed about 20 Montavue surveillance systems so far, and their products, service, and support have far surpassed all of the previous products we used to install. With these new cameras, we will be able to accomplish even more.
MISSOULA, Montana (PRWEB) March 27, 2018
Montavue has just launched their new line of 4 mega-pixel fixed lens IP cameras tailored to adhere to customer needs and requests. The new 2K resolution MTB4104 4MP IP bullet camera, MTD4104 4MP IP vandal-proof dome camera, MTE4104 4MP IP dome/eyeball camera, and the MTT4104 4MP IP audio turret camera now come standard with a 104° field of view and new white color scheme. The previous 4870 series featured a neutral grey color that was unique in the industry, but after feedback from customers it was decided the new cameras should be all white to match accessories, such as junction boxes and mounts for their IP cameras.
The most important technical change in the camera is the expanded field of view, the 17° increase from 87° to 104° gives the consumer 14% more coverage than any other standard 4MP IP cameras on the market. When comparing the specs to the competition's fixed lens 4MP cameras, the widest field of view you will find is around 90°, giving Montavue the title of best in class in terms of field of view. The new models still maintain the industry leading 2K 4MP resolution at 30 frames per second video quality. Wider field of view has numerous benefits to the customer, the most obvious is more coverage per camera, which in turn means the customer may need fewer cameras resulting in lower costs of install, storage, and equipment.
The new white color was introduced to better fit customer needs. The previous grey color worked well blending with both light and dark color house exteriors, but stood out too much in interior installations. All white cameras will work better with interior and exterior installations by blending better with their surroundings, as well as accessories such as junction boxes and mounts for Montavue's expanding camera lineup.
Since its inception, Montavue has been at the forefront of innovation in the small business and home security market segment, these cameras continue their trend of staying one step ahead of the competition. With a wide variety of NVR options featuring 4, 8, 16, 24, and 32 channel NVRs, and an ever growing selection of cameras there is no security solution Montavue cannot cover. Stay tuned for more product releases from Montavue in the near future, their commitment to staying ahead of the competition is second to none.
These cameras are now available for purchase in complete packages, singles, two packs, and four packs.
https://montavue.com/product/ip-cameras/fixed-lens/4mp-2k-resolution/
As always, if you are a surveillance system integrator, installer, or re-seller, please reach out to us as we can offer you special pricing.
https://montavue.com/dealers-installers/