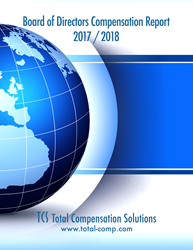 "It's clear that the Chair position needs to be competitive with the outside market and that's why we're seeing these increases year after year."
ARMONK, N.Y. (PRWEB) March 27, 2018
Board of Directors pay frequently increases at a rapid pace. However, the Chairman and Lead Director roles received increases this year that outpace most C-Suite executives. Specifically, the Chairman received an average increase of 10.5% and the Lead Director received an average increase of 32.3% between 2016 and 2017. This is based on analysis of 1,278 public documents compiled by Total Compensation Solutions (TCS) and published in its 2017/2018 Board of Directors Compensation Report.
"It's clear that the Chair position needs to be competitive with the outside market and that's why we're seeing these increases year after year." according to Tom Bailey, TCS Project Manager for this study. "However, we're now also seeing significant increases for the Lead Director who facilitates deliberations when the Chair is potentially conflicted or lacks impartiality".
TCS' annual study has been conducted every year since 2005. The report notes that the Chair position increases have been in the 8% to 10% range for the last 10 years and reflect the impact that regulatory changes have had on the time commitment required of the Chair.
What's new is that the Lead Director role, an offshoot of the Dodd Frank Act is now being used by more Boards than ever before. "Perhaps this is the result of increasing scrutiny from various 'watchdog' groups and regulators" acknowledges TCS' Managing Director Paul Gavejian. "But, industry experts seem to think it's an attempt to spread accountability to more members of the Board of Directors."
"It's ironic that this element of Dodd Frank, arguably one of the most stringent regulatory acts of the past 20 years, is now being implemented during a period when deregulation is high on the Trump Administration's to do list" says Gavejian.
Further analysis indicates that the existence of a Lead Director or Vice Chairman role is highly correlated with the combined Chairman/CEO role in individual companies. 42% of companies in this study have a Lead Director when there is a combined Chairman/CEO role.
The 2017/2018 Board of Directors Compensation Report reveals the compensation and governance practices of publicly traded companies in multiple industry groups (Banking, Biotechnology, Consumer Goods, Energy, Financial, Healthcare, Insurance, Leisure, Media, Technology & Transportation). TCS compiled data on these companies in late-2017 for use during the 2018 proxy season.
This release of the 2017/2018 report affirms TCS's commitment to provide timely, accurate Board of Directors compensation information to its clients and subscribers. Copies of the 2017/2018 Board of Directors Compensation Report are available from TCS (http://www.total-comp.com). If you have questions regarding this report, please call TCS at (914) 730-7300 or email questions to: Tom Bailey tbailey@total-comp.com or Paul Gavejian pgavejian@total-comp.com.
Total Compensation Solutions is an independent human resources consulting firm and a trusted advisor to numerous Boards, executives, and trade associations representing publicly traded and privately held companies in a variety of industries throughout the U.S. TCS assists clients in achieving their strategic compensation objectives by using market data to identify best practices in several areas including: board compensation; executive, middle management and staff compensation; incentive planning; board and executive assessment; and retirement benefits. From offices in Armonk, NY, TCS gathers and reports information on the prevalence and design of compensation and benefits programs tailored to each organization's unique set of circumstances. For more information, visit http://www.total-comp.com or contact us at:
Total Compensation Solutions
200 Business Park Drive
Armonk, NY 10504
Phone: (914) 730 – 7300
Fax: (914) 730 – 7303