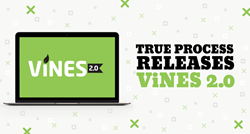 MILWAUKEE (PRWEB) March 27, 2018
True Process, a leader in precision medical software engineering, today announced the 2.0 release of its biomedical device integration and clinical data capture platform, ViNES®. Built to support the next-generation of analytics and machine learning systems, ViNES is focused on capturing, routing, and storing high-fidelity data from medical devices. ViNES is a modular, server-based software application built around a high-performance messaging core specifically designed to meet the demands of high-frequency data acquisition and support a diverse array of connectable medical devices that generate data. This latest release of ViNES software adds new features, improves performance, and strengthens data security.
"The medical and scientific communities are just beginning to discover the value of the high-resolution data. Not only can the data streams generated by biomedical devices be utilized for improved patient monitoring and decision making, this data can be used for predictive analytics and to improve patient outcomes," says Joe McCullagh, ViNES Product Manager.
ViNES 2.0 introduces functionality that allows users to create and process custom data filters when streaming biomedical device data. A new query feature enables data consumers to filter streams of data by criteria of interest, as defined by the user. Additionally, users will now have the ability to query data captured in ViNES by any message criteria.
Data security and patient privacy are of paramount concern in healthcare and the latest release of ViNES continues to enhance product security. ViNES 2.0 strengthens security by adding broad event auditing capabilities, increasing authentication options, and enhancing data encryption both at rest and in motion.
In addition to new core features, ViNES 2.0 includes efficiency and performance enhancements improving overall product performance and expanding product OS compatibility.
"Last year, ViNES captured over a trillion data points in live clinical environments; conservatively we can expect to capture ten times as much data in 2018," explained Joe McCullagh. "The 2.0 release of ViNES bolsters our commitment of delivering quality high-speed data to facilitate discoveries and ultimately improve patient health and management."
To learn more about ViNES visit: https://www.trueprocess.com/vines-medical-device-connectivity/
For more information on ViNES, contact Joe McCullagh:
Joe McCullagh, Product Manager - ViNES
Phone: 414-935-4055
Email: Joe.McCullagh(at)TrueProcess(dot)com
Website: http://www.TrueProcess.com
About ViNES®: ViNES is a software-based biomedical device integration and data capture platform built for the next-generation of analytic and machine learning systems. ViNES is focused on capturing, storing, and delivering high-resolution, high-fidelity patient data from medical devices. Using a flexible API architecture, ViNES enables access to data previously locked in the device. ViNES is used by researchers, healthcare providers, and medical device manufacturers to facilitate standards-based, vendor-neutral data exchange.
About True Process: True Process is an ISO 13485 certified healthcare IT firm focused on medical software engineering for connected medical devices. True Process offers a suite of solutions for a product's complete lifecycle, including precision software engineering, solution prototyping, device connectivity, integration, and support. True Process is headquartered in Milwaukee, Wisconsin with field engineers located throughout North America.