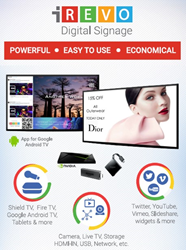 SUNNYVALE, Calif. (PRWEB) March 27, 2018
iRevo Multimedia, Inc. today, at the Digital Signage Expo, announced iRevo Digital Signage (iDS) Platform and Apps that enables the use of Google Android TV, nVidia Shield TV, Amazon Fire TV and Android Tablets as a Digital Signage player. The Company also announced Signage as a Managed Service that includes the iDS Software, content reviewing, publishing and player monitoring starting at $30 a month per display that should make it easier than ever to deploy a digital signage solution. Various iRevo products will be demonstrated at the DSE in booth #1772, LVCC South Hall.
"With the technology advances of cloud platforms with respect to availability of various tools, third party service integration, scalability and reliability, it was possible for iRevo to innovate newer use cases that are easier to deploy and manage", said Dhimant Bhayani; Founder and CEO of iRevo. He explains, "we can implement an end-to-end solution at reduced costs with the use of signage players based on high performance SOCs running Android OS. This has enabled us to support peripherals like web cameras, HDMI input as-a-source, and other IoT sensors which can now enable a whole new class of applications that simpler to deploy and operate."
The company sees significant growth opportunities as television display and signage player prices have come down considerably. iRevo makes it easier for those customers who wants to use off-the-shelf OTT player devices like nVidia Shield TV, Amazon Fire TV, Android tablets or Google Android TV sets by supporting its iDS application on these devices. To further increase adaptation of digital signage, iRevo is announcing availability of iDS software Signage with Managed Service that off loads the tasks of reviewing and publishing content to players and monitoring starting at less than $1 a day.
iRevo's Signage with Managed Service is built using its deep experience with the iRevo OTT platform, middleware, and applications for Android/Linux based player devices. The iDS software leverages the OTT platform to deliver advanced services like curated content, live TV via internet, and cell phone to TV interactivity. iRevo's breadth of product portfolio uniquely enables it to offer an end-to-end solution for a wide variety of display based solutions, such as a television display or a tablet screen or point of sale display.
The iDS software is available now and the Signage Managed Services will be available next month. The Company plans to partner with system integrators, professional display makers and digital signage player providers to distribute the iDS software and services.
About iRevo Multimedia, Inc.
iRevo Multimedia, Inc., develops and markets software platforms, middleware, apps and technologies for delivering OTT and Live TV apps and services on SmartTV, Digital Media Players, Set Top Boxes and Smart Phones. The Company also offers a complete end-to-end solution for the Digital Signage market. iRevo Multimedia, Inc. is a privately held company located in Silicon Valley, California, USA and has operations in India.
For more information and video please visit: http://ds.irevomm.com https://youtu.be/EVIOQkLc5x8 and http://ott.irevomm.com
iRevo and iRevo logo are registered trademarks of iRevo Multimedia, Inc. All other trademarks are trademarks or registered trademarks of their respective owners and does not imply an affiliation.