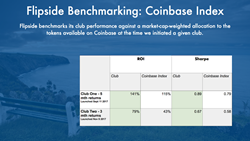 We've proven our algorithms can deliver substantial ROI, while simplifying the process of acquiring a basket of cryptocurrencies for investors.
BOSTON (PRWEB) March 28, 2018
Flipside Crypto (flipsidecrypto.com) is pleased to announce it has closed a $3.4 million venture capital round for its data-driven cryptocurrency investment vehicles. True Ventures led the financing round, with participation from The Chernin Group, Resolute Ventures, Boston Seed Capital, Converge and Founder Collective. True Ventures Partner Adam D'Augelli will join Flipside Crypto's Board of Directors.
Flipside Crypto will use the funding to continue to develop and refine its algorithms, which analyze speculation, developer behavior and token utility for cryptocurrencies. In addition, the funding will be utilized to further develop Flipside Crypto's suite of cryptocurrency management services, including cryptocurrency acquisition, digital walleting and custody services.
"This financing round will build on the tremendous outcomes from our first 6 investment vehicles," said Dave Balter, CEO of Flipside Crypto. "We've proven our algorithms can deliver substantial ROI, while simplifying the process of acquiring a basket of cryptocurrencies for investors."
The round of financing follows the launch of Flipside Crypto's first six investment vehicles. Launched in 2017, the vehicles utilize Flipside's algorithms to analyze the liquid cryptocurrency market and identify a diversified basket of 14-16 cryptocurrencies, including Bitcoin and Ethereum, as well as a number of altcoins club members can invest in.
In its first five months, Flipside Crypto's hallmark Investment Club "Club One" substantially outperformed the Coinbase Index—which considers a market-cap-weighted allocation of cryptocurrencies available on Coinbase including Bitcoin, Ethereum, Litecoin and Bitcoin Cash—delivering 141 percent return versus 115 percent for Coinbase holdings. A Bitcoin-only investment would have produced a 92 percent return. Flipside Crypto's "Club Two", which launched in November 2017, has delivered 79 percent return versus 43 percent return for the Coinbase Index and 11 percent return for Bitcoin-only after three months of existence.
"We are thrilled to partner again with Dave, Jim (Myers), and Eric (Stone) on Flipside Crypto," said Adam D'Augelli, partner at True Ventures. "They're proven entrepreneurs and have established industry-leading algorithms for analyzing the value of cryptocurrencies. While it's early for the space, we think Flipside could change how crypto infrastructure is built and funded."
Flipside Crypto is currently accepting investments from accredited investors for it's latest investment vehicles.
About Flipside Crypto
Flipside Crypto launched in mid-2017, through the development of proprietary data models to evaluate liquid crypto assets and offering a series of investment portfolios related to cryptocurrencies. The company provides a full suite of services from algorithm development to acquisition, digital walleting and custody process, as well as community tools and portfolio dashboards for investors. Flipside Crypto is led by experienced entrepreneurs Dave Balter, Jim Myers and Eric Stone, and backed by True Ventures, The Chernin Group, Resolute, Founder Collective, Boston Seed Capital, Converge and other investors.
Flipside Crypto's Investment Vehicles
Flipside Crypto's investment vehicles provide a portfolio approach to cryptocurrency investing, providing investors with diversified baskets of cryptocurrency holdings. Holdings are determined via proprietary algorithms that evaluate speculation, developer activity and utility of each cryptocurrency. Flipside Crypto has completed 6 passive investment products, providing investors baskets of 14-16 cryptocurrencies based on its algorithms. The company is rolling out additional investment portfolio products in 2018.
About True Ventures
Founded in 2005, True Ventures is a Silicon Valley-based venture capital firm that invests in early-stage technology startups. With more than $1.4 billion under management, True provides seed and Series A funding to the most talented entrepreneurs in today's fastest growing markets. The firm maintains a strong community that supports founders and their teams, helping True companies achieve higher levels of success and impact. To date, True has helped more than 250 companies launch and scale their businesses, creating over 10,000 jobs worldwide. To learn more about True Ventures, visit http://www.trueventures.com.