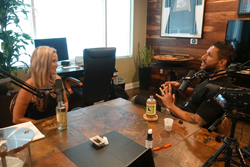 The catalyst to take action often comes as a wake-up call, either in the form of inspiration or desperation
SEDONA, Ariz. (PRWEB) March 27, 2018
Shamanic healer and soul guide Anahata Ananda recently returned to the top-rated Aubrey Marcus Podcast to take listeners on a journey from taking a concept from formless inspiration to physical manifestation. She introduced a roadmap—a complete system, with clear, actionable signposts along the way—for manifesting one's dreams and achieving personal transformation.
"In order to manifest a new reality, you need to navigate through the elements of how consciousness moves in to form," said Anahata, founder of Shamangelic Healing. "All manifestation begins with an inspiration, a thought, that must then move down through the elemental realms of air, fire, water and earth to finally become embodied physical form."
Anahata explains how the elements equate to various stages of the transformation process. Inspiration happens in the etheric realm, the place of knowing—where ideas, thoughts and beliefs are held. It moves into the air as one begins to talk about their ideas and intentions. From here, action is required—the fire element—which often brings up resistance and reactions from others or from within.
"If you are going to move into matter, then other peoples' opinions can't matter," says Anahata. "The catalyst to take action often comes as a wake-up call, either in the form of inspiration or desperation, so you have to listen to your own heart."
Taking action then requires moving through the water element—the feelings and emotions held at a deep level that often need to be healed to allow for growth. Navigating this emotional terrain is the key to transforming the etheric idea into its ultimate embodied form—the earth element.
During the hour-long podcast, Anahata and Aubrey engage in a thought-provoking and enthusiastic discussion about the many twists, turns, roadblocks and cliffs along the way. Listen to the podcast for details about the journey. You can view the video podcast on YouTube or download the audio format from iTunes for listening on the go.
"Navigating through the elemental processes and gateways takes time, awareness, compassion and persistence to address the issues, fears, wounds and emotions that arise," said Anahata. "The elemental view provides a lens through which we can track our progress at any point in time."
Anahata Ananda has trained extensively with gifted shamans, energy healers and spiritual teachers from around the world to artfully integrate the fields of spirituality, energy healing, self-empowerment and shamanic teachings. Her client-base spans the globe with individuals from all walks of life who are seeking to heal and awaken to their fullest potential.
Aubrey Marcus is the founder and CEO of Onnit, a lifestyle brand based on a holistic health philosophy he calls Total Human Optimization. Onnit is an Inc. 500 company and industry leader with products optimizing millions of lives. The Aubrey Marcus Podcast is a motivational destination for conversations with the brightest minds in athletics, business, science, relationships and spirituality with over 10 million downloads on iTunes.
Anahata offers a variety of Shamangelic Healing services year-round in Sedona, Arizona including private sessions, sacred land journeys and training courses that incorporate Shamanic teachings and other energy healing modalities. She also offers Tailored Retreats for individuals, couples and small groups that can include a combination of offerings based on various needs and areas of interest.
Shamangelic Healing is a premier center for Shamanic healing and spiritual awakening in Sedona. It is nestled beneath Thunder Mountain with breathtaking views and within walking distance to a medicine wheel and healing vortexes, making it the perfect setting for healing and expansion.
For detailed descriptions and a calendar of all training courses and spiritual awakening services offered by Anahata visit http://www.shamangelichealing.com/