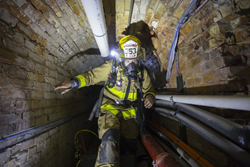 "We are proud to meet our customers advanced requests and needs which reinforces Mobilicom's position as a leading provider of Mobile Mesh communications technology", said Mobilicom's VP of R&D and Co-Founder Mr. Yossi Segal
(PRWEB) March 28, 2018
Mobilicom, developer of 4G Mobile MESH private network technology, has introduced its new Mobile MESH Network Solution for underground operations. The new solution is available for all Mobilicom Communications Units (MCUs) and enables a fully synchronized network without the need for a GPS.
By adding a solution for underground operations, Mobilicom addresses market need with its MCU products across various applications. Such applications include disaster relief and public safety operations such as firefighting rescue teams working in buildings and underground, mining and resource industry teams working underground, or robotics operations working for advanced delivery warehouses.
Unlike other solutions, Mobilicom's varies in offering a fully synchronized system excluding the need for a GPS. The new solution is enabled by an innovative and unique tech algorithm that is fully developed by Mobilicom.
The ability to work underground with the MCU products completes Mobilicom's solution, offering a private and secured 4G Mobile MESH for all operations and applications.
The Mobilicom team has started validation and field trials with select international customers who expressed a high degree of interest in the solution.
"The new Mobile Mesh Network Solution is based on an innovative and unique tech algorithm that is fully developed by Mobilicom's R&D team," said Mobilicom's VP R&D & Co-Founder, Mr. Yossi Segal. "We are proud to meet our customers advanced requests and needs which reinforces Mobilicom's position as a leading provider of Mobile Mesh communications technology."
About Mobilicom
Mobilicom designs, develops and markets solutions for mission critical and remote mobile private communication networks without the need for, or use of, any existing infrastructure.
For more information, visit our website: http:// http://www.mobilicom.com