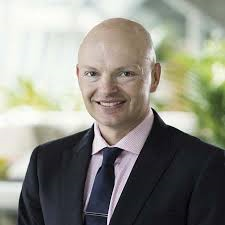 PALM COAST, Fla. (PRWEB) March 28, 2018
Designs for Health (DFH) – the premier, practitioner-channel dietary supplement company announced today the appointment of Nathan Cheong as the company's managing director. In a newly created role, Cheong is joining this family-owned business at a time of unprecedented growth. The expansion into new markets coupled with emerging opportunities prompted DFH's decision to onboard additional talent to help guide it to the next level.
"Recruiting our industry's best-in-class professionals, like Nathan, is essential to our ongoing success," Phil Lizotte, CEO explained. "He has C-suite experience and a unique skill set ideally suited for the challenge at hand. It's an exciting time for our company, and we welcome Nathan as we ramp up for future growth and new product introductions," Lizotte continued.
Designs for Health, a science-based brand since its inception nearly 30 years ago, has an enviable reputation for quality, innovation and customer service. As he takes the helm, Cheong says he's thrilled to be working with a group of like-minded people. "I am excited to be part of an organization where everyone shares the same vision, are culturally aligned, passionate about natural medicine and motivated to do their best," Cheong stated. "I want to build on the great work that the founders, senior leadership team and outstanding staff have done to date."
Cheong will be responsible for sales, marketing, product development, customer service, IT, finance and human resources. He will assume these responsibilities from CEO Phil Lizotte, who has presided over an era of rapid growth since joining the company in 2006. Lizotte will ascend to the board of directors, where he will join his wife, Designs for Health Chief Administration Officer Gail Lizotte and his brother, Founder and Chairman Jonathan Lizotte.
As he prepares to transition out of the CEO role, Phil Lizotte said he's most proud of building Designs for Health's manufacturing operations from scratch. Today, the company manufactures more than 90 percent of its 350 plus products. In addition, Lizotte also added that he treasures the friendships developed over the years with customers, vendors, and most of all, fellow Designs for Health employees.
Hiring a new managing director had been Designs for Health's plan since Jonathan Lizotte took a board role last year. "It has always been a challenge to find people who not only understand our industry but also speak the language of the clinician. Knowing what the market wants and developing the vision to deliver the products for clinicians to meet their patients' needs requires a unique skill set. Nathan brings the level of experience and insight that we need going forward," Jonathan Lizotte said.
As a naturopathic practitioner who was also a proprietor and practitioner at one of the largest health food stores in Australia, Cheong is very aligned with Designs for Health's primary goal of helping practitioners and their patients have a healthy future. "I step into this role with an open mind and a commitment to the philosophy that has guided the company from day one—science first," Cheong commented. "It's an incredible opportunity to be able to bring my experience and passion for health to Designs for Health and to head their global expansion and future growth."
Cheong's Background:
With more than 20 years of experience in the integrated medicine industry, Cheong most recently served as managing director of BioCeuticals, the leading practitioner-only natural medicine company in Australia. There he managed 160 employees while doubling BioCeuticals' group sales to over $100 million during his five-year tenure.
A naturopath and medical herbalist, Cheong holds degrees in Health, Science and Social Work, graduating with majors in Biochemistry and Psychology. Prior to joining BioCeuticals in 2012, he was the general manager at Herbs of Gold, a subsidiary of Vita Life Science.
Cheong served as a board member of Complementary Medicines Australia, is a registered member of Australian Traditional Medicine Society (ATMS) and a graduate of the Australian Institute of Company Directors. He was named Health and Pharmaceutical Executive of the Year in 2017 and Managing Director of the Year in CEO Magazine's Executive of the Year Awards (Australia) in 2016. He also received the Rotary Foundation's Paul Harris Fellow Award in 2015.
An avid Crossfitter and ultramarathon runner with a second-degree black belt in Tae Kwon Do, Cheng climbed Mount Kilimanjaro in 2016 as part of Dr. Charlie Teo's Million Dollar Mission to help cure Brain Cancer. He has taken dietary supplements ever since his mother took him to see a naturopath and an acupuncturist at a very young age.
For media interested in further information please contact Laura Meditz: laura(at)adinnyc(dot)com, 212-693-2150 x311.
About Designs for Health:
Family-owned Designs for Health offers high-quality, dietary supplements and medical foods primarily to healthcare professionals and their patients. Guided by its founding philosophy of "Science First," the company holds an unwavering commitment to creating research-driven formulations with meaningful quantities of therapeutic ingredients that maximize the potential for successful treatment outcomes. For nearly 30 years, Designs for Health has been many healthcare professionals' trusted source for not only product innovation, but also leadership in clinical education and practice development solutions. To learn more, visit http://www.designsforhealth.com or call 860.623.6314.  
# # #
MEDIA INQUIRIES:
Please contact Laura Meditz, ADinfinitum, Inc., at laura(at)adinnyc(dot)com, 212-693-2150 x311.