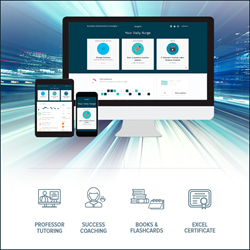 Surgent was founded with one goal in mind: to help candidates pass the CPA Exam faster. We've found that the best way to improve study efficiency is through personalizaion.
DEVON, Pa. (PRWEB) March 27, 2018
Surgent CPA Review, the maker of award-winning exam prep software, recently launched their most comprehensive product yet: Ultimate Pass. Reflecting Surgent CPA Review's core value of personalized exam prep, Ultimate Pass is unparalleled within the industry with its level of customization and one-on-one student support.
"Candidates are really struggling with passing all four parts of the CPA Exam in the 18-month window," states Surgent CPA Review's Executive Vice-President and co-founder Elizabeth Kolar. "Surgent was founded with one goal in mind: to help candidates pass the CPA Exam faster. We've found that the best way to improve study efficiency is through personalization."
Ultimate Pass is powered by Surgent's proprietary adaptive learning software, A.S.A.P. Technology, whose acronym stands for Adaptive Study and Accelerated Performance. This real-time software provides candidates with a customized, guided study experience by assessing their knowledge of exam topics and -combining that information with real exam content weightings- producing study material that is aimed at improving their weaker areas of comprehension. Students' study time is targeted, and thus more efficient; they spend their time studying what they don't know instead of what they do.
While the software optimizes for study efficiency, Ultimate Pass ensures exam success with one-on-one student support. Through Ultimate Pass, students receive four hours of virtual tutoring from accounting professors, exploring subject areas where they may need additional instruction. In addition, students receive three 30-minute sessions with success coaches who guide them along their CPA Exam journey, assist students with study planning and strategies, impart test-taking tips, and foster accountability. Ultimate Pass also includes printed textbooks and flashcards, for those who prefer physical materials, as well as access to Surgent's Critical Skills Certificate: Excel® for Accounting and Finance Professionals, to help students succeed on both the new CPA Exam and in their career.
Like all Surgent CPA Review courses, a student's access to Ultimate Pass continues with free course content updates until the student passes all four parts of the CPA Exam. Nearly all other CPA Review courses require additional payment to continue access, typically expiring 18 months after purchase.
Since its inception three years ago, Surgent has continued to innovate within the e-learning space. By combining cutting-edge programming with best practices in learning theory and design, Surgent has created a series of products that have enabled students to save as much as 400 hours of study time, while passing at rates that are nearly double the national average (89.7% vs 47%).
Those interested in learning more about Ultimate Pass can read a full review of its features here: https://www.surgentcpareview.com/about-ultimate-pass.
About Surgent CPA Review:
One of the fastest-growing CPA Review providers in the country, Surgent CPA Review was born out of Surgent Professional Education, a 30-year leader in tax, accounting, and finance professional education, and Kolar CPA Review, a program developed based on Liz Kolar's 20 years of teaching CPA Review in Pennsylvania, New Jersey, and New York.