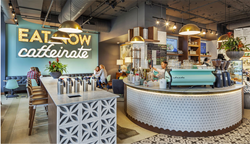 We are thrilled to introduce Goddess and the Baker to Wisconsin. We are confident this is a market they will grow and thrive in. Mathew Focht, CEO Emerging
CHICAGO (PRWEB) March 29, 2018
Emerging Concepts announces the lease signing of their client Goddess and the Baker at The Corners of Brookfield in Wisconsin. The Chicago-based bakery and café, Goddess and the Baker, will open their eighth location this summer in Wisconsin. This will be their first location outside of the Chicago metro-area.
The Corners at Brookfield was the ideal location for Goddess and the Baker to begin their Midwest expansion plans according to Emerging Concepts President Mathew Focht. The Corners was looking for a next generation coffee concept featuring seasonal global flavors with made-to-order sandwiches in a warm, cozy, and casual environment. Goddess and the Baker exceeds that need while offering artisanal sandwiches, baked goods and their famous rainbow cake. They will be open for breakfast, lunch, and dinner and will serve beer and wine.
"We are thrilled to introduce Goddess and the Baker to Wisconsin. We are confident this is a market they will grow and thrive in" said Mathew Focht.
Goddess and the Baker is the tenth first-to-Wisconsin concept that has signed to open at The Corners which opened Spring of 2017. They are also part of a growing wave of Chicago concepts expanding to Wisconsin.
Emerging Concepts is the real estate division of EMERGING, a restaurant consulting firm based in Chicago, IL. Emerging Concepts is a strategic real estate partner with today's leading restaurant and entertainment concepts.