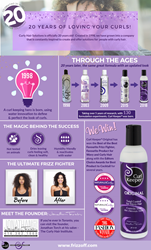 "The sampling program was designed to empower young curlies to make informed choices about their hair care routine. That, and, what better way to celebrate than sharing our tried and true products with curly consumers near and far!"
TORONTO, ONTARIO (PRWEB) March 29, 2018
Curly Hair Solutions® is thrilled to celebrate what will be the company's 20th anniversary this year. To kick off festivities and, of course, celebrate in style, Curly Hair Solutions® will launch a complimentary sampling program across a number of colleges and universities both in Canada and the US. "The sampling program was designed to empower young curlies to make informed choices about their hair care routine. That, and, what better way to celebrate than sharing our tried and true products with curly consumers near and far!" says Jonathan Torch, Curly Hair Solutions® founder. And the festivities don't stop there. For the entire month year, Curly Hair Solutions® will offer unprecedented online discounts on many of their favourite products; it is birthday time after all and those tresses deserve something special.
After 20 years of serving the curly hair community both within Canada and internationally, Curly Hair Solutions® recognizes much of their success stems from loyal clientele. Curly Hair Solutions® truly provides solutions for those with unmanageable manes using water-soluble ingredients - innovative approaches that were simply unfounded twenty years ago. Often referred to as a pioneer within the hair care industry, Jonathan Torch, CHS founder, is so pleased to be a Canadian brand that is recognized, and, lauded on an international scale. "Simply put, the formulas work," says Jonathan.
Always on the front lines attending exclusive industry events and trade shows, Curly Hair Solutions® is a dynamo brand with the awards to prove it. This auspicious occasion is true cause for celebration - 20 years of cutting-edge hair care, countless features in beauty magazines, and exclusive online media coverage throughout the years. The entire team at CHS is absolutely honoured to celebrate this exciting occasion with curlies everywhere. Let the celebration begin!
For more information about Curly Hair Solutions® full line of hair care products including the Curl Keeper® collection, visit http://www.frizzoff.com.
About Curly Hair Solutions: Curly Hair Solutions® curly hair products perform 100% of the time, on every curly head, in all weather conditions, without the use of silicones. Our ingredients are natural, biodegradable and are not tested on animals. Our products have been perfectly pH balanced to match our environment to our bodies resulting in healthier, shinier, and a more controllable result every time. For more information, visit http://www.frizzoff.com.