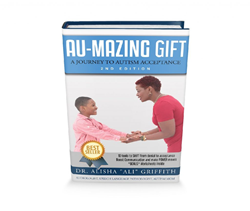 "Giving UP is not an option. Shift, ignite and make power moves."
NEW YORK (PRWEB) March 28, 2018
Dr. Alisha Griffith, Author of Amazon Bestselling Book Au-mazing Gift: A Journey to Autism Acceptance is helping provide a honest, straightforward approach towards Autism Acceptance for Autism parents everywhere. In this latest edition, this short-read details the challenges she faced after receiving her son's Autism diagnosis and the path that she took towards acceptance. "Honestly, I didn't want it to be true. For years, I didn't want to say the words "Zachary" and "Autism" in the same sentence, out loud." said Griffith.
After her son's diagnosis, Dr. Griffith decided to focus her energy on empowering herself and other Autism Parents on their individual journeys to Autism Acceptance. She dedicates most of her time advocating for Autism Awareness, and coaching Autism Parents on shifting their inner dialogues from a negative mindset to that of gratitude and appreciation through her unique power tools and strategies.
The second edition of Au-mazing Gift: A Journey to Autism Acceptance, released March 27th, 2018, takes readers through Dr. Griffith's personal quest for truth and acceptance as she faces unique challenges while raising her autistic son. She details how along her journey with her "au-mazing gift" (her reference to her son Zachary), she encounters different stages of denial, shame, guilt, and the eventual path that led her towards acceptance and inclusion.
The book provides unique and easy-to-use communication strategies and self-help methods for Autism parents and caregivers taking care of children living on the Autism Spectrum. It provides interactive workbooks, along with engaging questions and self-discovery activities so Autism parents can apply their own experiences as they follow along. The book aims to allow parents of Autism to deepen their connections with their children and move towards a place of acceptance. Some of the tools shared include identifying strengths, unique differences and mindset shifting practices.
Readers of her book have expressed great enthusiasm for Dr. Griffith's honest, and straightforward approach towards Autism Acceptance and the parenting challenges associated. "This book can offer support to parents as they first get the autism diagnosis and offers hope and inspiration for raising happy, healthy children. I would recommend this book to families with children on the autism spectrum to help them identify and move through the process toward acceptance with grace and hope. Thanks for sharing your journey so honestly" says Patti Bottino-Bravo.
Dr. Griffith is an Audiologist, Speech Pathologist, IGNITE Coach and Transformational Speaker. Dr. Griffith has created a movement to ignite a change in the way we view Autism. "Autism is not where your dreams die, says Dr. Griffith. Dr. Alisha "Ali" Griffith has been seen on Trinity Broadcasting Network (TBN), Power Play TV and an interview on NutriNation. She has also been seen speaking on the stages of Steve Harvey's Act like a Success Conference, Lisa Nichols' Speak and Write Conference and Autism Alliance of Michigan Conference. She has also been featured in The Network Journal, NY Metro Parents, Huffington Post, Family Circle, Caribbean Life News, and Healthy Way. She is a contributing writer to Mom's N Charge blog and has been interviewed on other blogs like Guyanese Girls Rock, The Art of Autism and more. Dr. Ali has also been interviewed for podcasts like Autism Quality of Life, The Riot Starter on iHeartRadio, Blog Talk Radio and We Help You Thrive. On her website, http://www.draligriffith.com, she frequently provides advice, strategies, tools, live events and more for Autism Parents to connect with each other. She is dedicated to igniting positive change for Autism Parents. Dr. Griffith says, "Giving UP is not an option. Shift, ignite and make power moves."