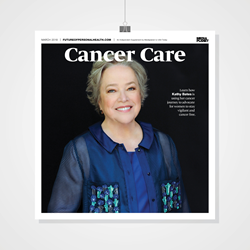 "When I got breast cancer, I was inspired by women who were brave enough to go out with bald heads. Clearly, it's an epidemic. Why hide?"
NEW YORK (PRWEB) March 27, 2018
Mediaplanet announces the launch of this March's edition of "Cancer Care." This campaign will showcase the innovative work being done in the world of cancer research and highlight what industry experts and patients see as the potential future of the industry.
One in two men and one in three women in the US will be diagnosed with cancer at some point in their lives, however, improvements in cancer screening and earlier detection have led to a 25% drop in cancer death rates. While death rates are declining each year due to innovations in treatment and prevention, continuous research is the only way to ensure the numbers keep dropping.
The print component of "Cancer Care" is distributed within this weekend's edition of USA Today in New York, Boston, Chicago, Los Angeles, Houston, Nashville and Ohio markets, with a circulation of approximately 250,000 copies and an estimated readership of 750,000. The digital component is distributed nationally, through a vast social media strategy, and across a network of top news sites and partner outlets. To explore the digital version of the campaign, click here.
Breast and ovarian cancer survivor Kathy Bates graces the cover of the print publication. When Bates was first diagnosed, she felt pressure to stay silent, now she's speaking out in the hopes that women will stay healthy and get tested.
"When I got breast cancer, I was inspired by women who were brave enough to go out with bald heads. Clearly, it's an epidemic. Why hide?" She believes each appearance or magazine article is an opportunity to remind women to pay attention to their bodies. "Now there's a tumor marker blood test for breast cancer. I would urge women to make that part of their regular checkups as well as continuing with breast self-exams."
This campaign was made possible with the support of EMD Serono, Iovance Biotherapeutics, ImpediMed, Amgen, St. Jude Children's Hospital, the Rapunzel Project, Kidney Cancer Association, Ohio State University- the James Cancer, the Association of Pediatric Hematology / Oncology Nurses, Oncology Nursing Certification Corporation, American Association of Cancer Research, American Society of Clinical Oncology, American Society of Radiation Oncology, National Institutes of Health, Personalized Medicine Coalition, LIVESTRONG, National Coalition of Cancer Survivorship, Leukemia and Lymphoma Society and Stand Up To Cancer.
About Mediaplanet
Mediaplanet is the leading independent publisher of content marketing campaigns covering a variety of topics and industries such as Health, Education, Lifestyle, Business and Technology, and Corporate Social Responsibility. We turn consumer interest into action by providing readers with motivational editorial, pairing it with relevant advertisers and distributing it within top newspapers and online platforms around the world. Please visit http://www.mediaplanet.com for more on who we are and what we do.
Press Contact:
Sarah Wasser
Sarah.wasser(at)mediaplanet(dot)com
646-979-2831